December 2013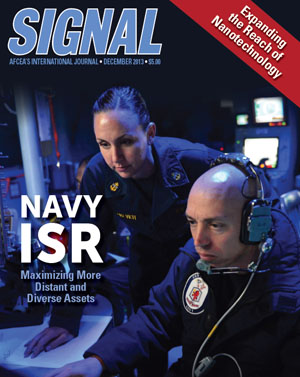 NAVY-ISR
Littoral Combat Ship Loaded With Unmanned Systems
   Remote-controlled vehicles extend data-gathering capabilities in shallow water operations.
Navy Artificial Intelligence Aids Actionable Intelligence
    Researchers seek to boost machine brainpower on behalf of warfighters.
New Challenges Emerge to NGEN Transition
    The GAO protest is over, but the harder part lies ahead.
SCIENCE AND TECHNOLOGY
Radioisotope Research 
May Revolutionize 
Battlefield Batteries
   The new power source may keep going and going and going for decades.
 
NANOTECHNOLOGY
Nano Looms as the Next Pervasive Technology
    Tiny is the titan moving forward in almost every field and product. 
Nanomaterial Fabrication Moving to Desktop
   A printing tool promises to reduce the manufacturing time and costs for the small devices. 
Nanowire Sensor Detects Minute Amounts of Explosives, Chemicals
   Researchers hope the new electronic nose can give mobile devices "tricorder"-type capabilities. 
Nanowire-Based Memory Technology Records Movement, Pressure
   An experimental memory system opens doors for new
control, sensor and medical implant technologies. 
INTERNATIONAL
China Destroyer Consolidates Innovations, Other Ship Advances
    Communication to the lowest echelons is a reality,
 but even greater capabilities are on the way.
ASK THE EXPERT
By Rear Adm. James Greene, USN (Ret.)
   How can government and industry best work together to achieve more affordable national security products?
 
PRESIDENT'S COMMENTARY
The Unique Character of Naval ISR
 
INCOMING