January 2016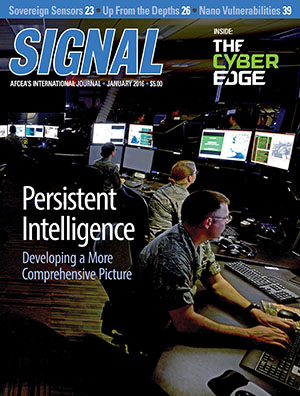 PERSISTENT INTELLIGENCE
Weaving a Web of Synthetic Persistence
    The latest trend in intelligence requires a broad range of cooperation among government, industry and academia.
Researchers Advance Autonomous ISR Technology
    New subsystems enable greater unmanned vehicle independence.
Falling Up From the Ocean Floor
    DARPA advances its remote-triggered deep-sea device that will store payloads and rapidly lift them to the surface.
Researchers Stimulate State-of-the-Art Persistent Surveillance
    An Army lab seeks to provide a more holistic view of the battlefield.

Cyber Ethics Vex Online Warfighters
    The United States wrestles with daunting guidelines to carry out warfare in the fifth domain.
Army Braces for A Culture Clash
    The service must work to entice and keep the type of people who excel at cyber operations.
When Lifesaving Technology Can Kill
    Tiny machines present a big cybersecurity risk that has yet to be resolved.
Slow Speed Ahead for Contractor Compliance
    New DFARS cybersecurity regulations are demanding, especially for small businesses, but solutions exist.
DISRUPTIVE BY DESIGN
Using Analytics to Combat Human Trafficking
PRESIDENT'S COMMENTARY
Happy New AFCEA Year
AFCEA EDUCATIONAL ACTIVITIES
Gravely Grants: The Heart of the Foundation's STEM Program
INCOMING
The Forgotten Ocean