Show Up at the IC agency and Think On your Feet!
I am always thrilled when I can come back from an intelligence community (IC) event with leads… and the best kind come from simply showing up, paying attention and thinking on my feet.  I can definitely get better, but if I have a good day generating leads, it's because I applied these rules.

 
Showing Up:  the best place in the world for me to be is in at client site; not reading e-mails in my office, or sitting with coworkers, talking about problems that I will never be able solve.  For successful sales professions, this is a mantra.  Woody Allen is quoted as saying "Eighty percent of success is showing up." 

 
In my experience this is true.  Sure, there is long list of nuances like, "are there any typos in my slide deck?", "are my shoes shined?", "how is my breath?", "is my value statement tuned for this particular IC agency's mission?", etc. But assuming these basics are in place, there is no better place to be than near or with the client.   There are enough trade shows, small and large conferences and symposia to take advantage of… such that if you don't see the opportunities, you're not looking hard enough.

 

 
Pay Attention:   Recently, I was working a table top trade show, in the lobby of an IC agency and we had a reasonably good return for our labor.  For starters, we called ahead, over the preceding week, to try and prearrange some traffic by our table.  I would fire any rep who did not do this!  Well, okay, that's a bit dramatic, but by-and-large, this should be a standard practice whenever possible.  There is always something new or interesting that I want to either show to prospects, or get their opinion on.  This provides an excuse for me to request that they stop by my table.  In sales, you typically don't get what you fail to request… so, always ask for what you want, in this case, for folks that you want to stop your table, to actually stop by.    All others who stop by are "icing on the cake".  I was reading names tags at this recent event and noticed a potential partner and said, "John… Hi, it's Dan Callahan, we met a couple of years ago at the …XYZ conference…" which was the truth.  The fact that I was prepared to see folks, and was paying attention to name badges made all the difference.  Why?  A) I barely remembered what he looked like, so reading the name was more important than recognizing his face; B) I went expecting to see folks, so my antenna was on "high collection mode" (how many times have you seen folks zoned out at a table top event…?); and 3) we were able to reenergize his enthusiasm for working with us and this is now leading to a valuable follow up conversation.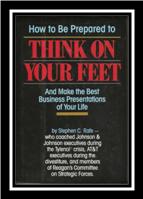 Think on your feet:  For the folks I was not able to speak with, the several days prior, I called them the morning of the table top show, from the lobby phone.  "Hi, I'm in the building, can you stop by….etc.?".  As far as I'm concerned, that's what a lobby telephone is there for!  So, I felt totally comfortable using it.  Remembering the telephone number of the personnel locator also came in handy at this agency.
Good luck in your hunting for leads! 
Question:  Any other tips along these lines?  Post a comment!