Engagement Packs Extend Combat Reach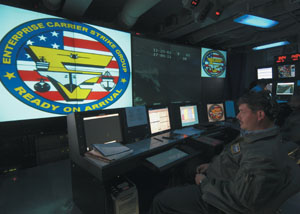 Operations Specialist 1st Class Tim Martin, USN, monitors surface contacts in the Tactical Flag Command Center aboard the USS Enterprise. Naval vessels support current operations; however, the FORCEnet Engagement Packs (FnEPs) concept proposes a way to extend the combat reach of the battle groups.

Concept delivers tomorrow's naval network-centric capabilities today.

With FORCEnet being touted as the glue that binds the pillars of Sea Power 21, the U.S. Navy is developing a concept to link sensors to shooters to weapons on demand and across joint platforms. By leveraging technology and system engineering know-how developed during the past 10 to 15 years, engagement packs would employ capabilities that are based on sharing and fusing multisource information and could be fielded in the next 5 years. The concept relies heavily on adaptable, flexible, composable forces and a distributed, network-centric, services-oriented architecture to make information available and usable by many systems.

The naval services' ability to gain and maintain global sea supremacy largely will depend on achieving the pillars of Sea Power 21, including Sea Strike, Sea Shield, Sea Basing and FORCEnet. Significant effort has gone into understanding and developing capabilities related to each of these pillars; however, the integration of FORCEnet capabilities remains elusive.

The full-dimension FORCEnet of the future can be developed today spirally using programs and initiatives already underway to deliver network-centric capabilities to the joint task force commander and increase combat reach. Because one of FORCEnet's roles is to tie the elements of Sea Power 21 together, interoperability is paramount. A focused approach to integration and interoperability coupled with specific mission threads significantly narrows the scope and complexity of the necessary integration.

The FORCEnet Engagement Packs (FnEPs) concept seeks to operationalize FORCEnet by integrating a set of weapons, sensors, platforms, warriors, networks, and command and control systems for the express purpose of performing specific network-centric warfighting tasks. Mission area integration of these assets would support the engagement chain, providing operationally critical information throughout the end-to-end engagement chain process. It is this mission-oriented, engagement-chain-focused, end-to-end combat reach capability that sets FnEPs apart from past FORCEnet initiatives. As such, FnEPs could provide a pathfinder application to develop network-centric operational combat capabilities today and spirally develop the ultimate vision of FORCEnet and Sea Power 21.

In October 2002, Adm. Vern Clark, USN, chief of naval operations, introduced Sea Power 21, a 21st century vision to "set the stage for tremendous increases in naval precision, reach and connectivity, ushering in a new era of joint operational effectiveness." As envisioned, future naval operations will use revolutionary information superiority and dispersed, networked force capabilities to deliver unprecedented offensive power, defensive assurance and operational independence to joint force commanders.

The Strategic Studies Group (SSG) XXI defines FORCEnet as the operational construct and architectural framework for naval warfare in the information age that integrates six factors—warriors, sensors, networks, command and control, platforms and weapons—into a networked, distributed combat force, scalable across the spectrum of conflict from seabed to space and from sea to land.

Within the context of network-centric operations, the integration of all six FORCEnet factors is critical to demonstrating the synergistic effects that result in improvements to joint combat reach and combat power that is far superior to that generated by single improvements to any individual FORCEnet factor. SSG XXI called this the combat reach function, which is achieved by properly integrating the six FORCEnet factors around combat reach capabilities. This approach would allow forces to extend combat reach and achieve an order of magnitude increase in combat power. Extending combat reach through capabilities like engage-on-remote and forward pass expands engagement envelopes and immediately expands Sea Strike and Sea Shield capabilities to project offensive and defensive power farther inland.

A key illustration of the potential of this method is operation Enduring Freedom and the war in Afghanistan, where U.S. Marine Corps and U.S. Army forces were supported ashore by sea-based Navy assets across a distance of more than 600 miles. The combat reach function demonstrates how U.S. forces can hold more targets at risk, thereby creating additional engagement and re-engagement opportunities. A more collaborative and effective layered-force defense is the result, with a larger protective footprint not only for the sea base but also for joint and coalition forces ashore.

SSG XXII focused on the question of how to achieve sea supremacy within the context of Sea Power 21 through the FnEPs concept. These engagement packs are small-scale system ensembles that demonstrate the engagement-enabling power of FORCEnet by integrating the six FORCEnet factors with requirements to perform cross-mission enabled network-centric combat reach capabilities.

The emphasis on small scale is a key aspect of the definition of FnEPs. Small scale implies a manageable set of joint platforms and systems to compose a warfighting pack. These would include the guided missile destroyer, F-18, airborne warning and control system, high mobility multipurpose wheeled vehicle-mounted medium-range air-to-air missile, E2C, cooperative engagement capability, Link 16, advanced medium-range air-to-air missile, joint surveillance target attack radar system and F-15. These systems would be integrated into FnEPs packs for a specific mission such as a strike, theater air/area missile defense and anti-surface warfare, which would limit integration and interoperability complexities.

The term pack does not prescribe a limited number of ships, aircraft and land-based sensors and shooters, but rather implies a flexible and adaptive set of engagement-related capabilities, including find, fix, target, track, engage and assess, linked by the sharing, passing and fusing of disparate types of information.

David Alberts, John Garska and Frederick Stein, the founding fathers of network-centric warfare, identified several key characteristics of information sharing—such as self-synchronization, remote sensor engagements and joint shared battlespace awareness—that, when combined, would provide enhanced operational and tactical capabilities critical to the kill chain and expansion of the engagement envelop. As part of the FnEPs concept, SSG XXII refined this idea by identifying a set of five network-centric capabilities called combat reach capabilities (CRCs) that are critical to building an FnEP. These CRCs are based on Joint Requirements Oversight Committee validated requirements and call for the true joint sharing of information across an engagement zone to increase warfighting effectiveness dramatically.

Integrated fire control, automated battle management aids (ABMAs), composite tracking, composite combat identification and common/single integrated pictures all are identified as CRCs.

Integrated fire control includes weapon systems equipped with a real-time and/or near-real-time data receive/transmit capability that can receive and process real-time sensor data from any other similarly equipped weapon system or sensor to support the development of an optimum fire control solution. This includes the capability for weapons to receive in-flight target update data from joint systems not normally controlling the interceptor, for example, engage-on-remote and forward-pass capabilities.

 
Adm. Vern Clark, USN (r), chief of naval operations, discusses the future of Navy sea power and other issues with area commanding officers at the Joint Undersea Warfare Technology Conference. The admiral, who developed the Sea Power 21 concept, updates the naval forces in his annual report.
ABMAs are a set of interconnected, distributed decision-support tools that the warrior uses in the management, prioritization and optimization of sensor, weapon and command and control resources. Collectively, these tools act as a distributed service to assist during individual engagements by providing the flexibility and adaptability to manage the engagement chain effectively. These decision-support aids will support engagement-to-engagement coordination processes, enabling weapon systems equipped with a near-real-time data receive/transmit capability to transmit, receive and accept execution orders, weapon status, engagement status and other battle management command, control, communications, computer and intelligence information. ABMAs support prioritized sensor-shooter-weapon assignments against raids or threats.
Composite tracking creates and maintains a networkwide track state that is based on all measurements of the target made by all tracking sensors in the network.
The composite combat identification CRC automatically fuses intelligence, surveillance and reconnaissance data with inputs from other active and passive sources. These include radars, cooperative and noncooperative target identification means, and precise participant and location identifier self-reported track information in common multisource integration algorithms and theater wide-area fusion algorithms using common combat identification databases.
The common/single integrated pictures capability offers common, continuous and unambiguous tracks of objects of interest in the surveillance area derived from real-time and near-real-time data and consisting of correlated object tracks and associated information.
As a set of integrated capabilities, the CRCs enable the fusing of sensor information from multiple sources into high-quality composite tracks with composite combat identifications as well as contribute to common and single integrated pictures for operators. Such a real-time shared information state across command and control, networks, fire control systems and warriors will create a true condition of shared battlespace awareness. Moreover, the systems must employ automated battle management aids to recommend prioritized sensor-to-shooter-to-weapons links for warfighters who will launch weapons and utilize integrated fire control to guide these weapons to their targets using       in-flight target updates and forward pass of weapons from remote sensors. In this way, CRCs become distributed services that support a virtual environment of human-augmented, automation-aided sensor-to-weapon links and that provide potentially hundreds to thousands of rounds on target per hour, extending combat reach far inland against raids of cruise and ballistic missiles, for example.
If FORCEnet can be compared to the Internet, then FnEPs are analogous to the ARPAnet. The Internet has its roots not in the development of high-performance computing nodes, not from huge increases in bandwidth and not from nationwide connectivity but from the integration of a few nodes into a small-scale wide area network. Additionally, the Internet economy exploded in the 1990s not only as a result of e-mail and Web surfing but also because of the ability to pass information and perform online transactions. Like the ARPAnet, engagement packs provide a first step to realize the power of node integration and the power of putting those nodes together to conduct business transactions.
In addition to its role in addressing force-on-force engagements, the joint task force commander must be able to address a wide variety of very adaptable and flexible asymmetric threats. To address these fleeting but deadly threats, unique capabilities must be used in unprecedented, collaborative efforts. This collaborative effort will ensure a focused response that permits the right partner with the right asset to engage the right threat at the right time.
Capt. Joseph Giaquinto, USN, is the commanding officer of the Indian Head Division, Naval Surface Warfare Center, Indian Head, Maryland. Maj. Woody Hesser, USMC, is an artillery officer stationed at Headquarters U.S. Marine Corps. Lt. Cmdr. Dan Rieken, USN, is an information professional officer serving at the Navy Networks and Space Operations Command, Dahlgren, Virginia.
Web Resources
Naval Warfare Development Command: www.nwdc.navy.mil/Concepts/IKA/ForceNet.aspx
Chief of Naval Operations Guidance for 2004: www.chinfo.navy.mil/navpalib/cno/clark-guidance2004.html
Vision, Presence, Power—A Program Guide to the U.S. Navy: www.chinfo.navy.mil/navpalib/policy/vision/vis04/top-v04.html
Enjoyed this article? SUBSCRIBE NOW to keep the content flowing.
---