Iraq Builds Military Communications Infrastructure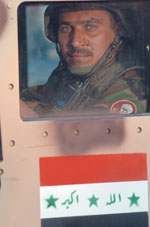 When the new Iraqi army was formed, it lacked signals units. It also had to purchase thousands of commercial radios to provide tactical communications. According to the commanding general, M-6, Directorate of Communications, Command and Control, Iraqi Ministry of Defense, this equipment is not sufficient to meet the army's needs so the service is in the process of acquiring modern tactical radio systems.

New signals school and tactical radio systems are part of a larger effort to connect all echelons.

Creating an army is difficult in peacetime and even more so when a nation is at war. The Iraqi government has done that, standing up a national army that will pave the way for the eventual withdrawal of coalition forces from the country. But modern armies are complex and require many parts to operate efficiently, and signal units constitute a key feature that is missing from the new Iraqi army.

Establishing the army's tactical communications infrastructure and training the personnel to operate it are the responsibility of Maj. Gen. Ahmed Saad, IA, commanding general, M-6 (U.S. Army G-6 equivalent),  Directorate of Communications, Command and Control, Iraqi Ministry of Defense, Baghdad. The general notes that coalition forces made many mistakes when they began building a new Iraqi army and were not providing funding for communications equipment and personnel.

Faced with limited resources, the army chose commercial equipment and purchased more than 40,000 Motorola handheld radios. "Commercial radios are cheap, and military radios are very expensive. If you want to buy four military HF [high frequency] radios, you can buy maybe 50 commercial radios. So we bought a lot of commercial radios," the general says.

But the commercial radios failed in the field. Although the equipment proved adequate for tactical operations, it was not ruggedized. Iraq is a harsh place for electronic equipment, where summer temperatures approaching 50 degrees Celsius (122 degrees Fahrenheit) can make systems overheat quickly. The general notes that when the Iraqi army installed a commercial radio system in Basra, the region's high heat and humidity corroded the equipment within a month.

The need for more durable systems prompted Gen. Saad to begin discussions with the Multi-National Security Transition Command–Iraq (MNSTC–I) about building a new communications infrastructure for the army. The MNSTC–I's mission is to train and equip the Iraqi army. Initially, it provided most of the funds for buying equipment but now operates only in an advisory role to the Iraqi Ministry of Defense. The general's office is responsible for identifying, planning and funding communications requirements.

To meet the army's tactical needs, the general and the MNSTC–I selected two U.S. firms to provide tactical radios and microwave and multimux systems. Because of the sensitive nature of the contract, the companies have requested anonymity. The new systems have proved to be very effective. A communications officer in the former Iraqi army, Gen. Saad explains that digital tactical radios are very different from the older analog systems with which he is most familiar. However, the new equipment is too complex to operate effectively without training. The general describes the difference between analog and digital radio systems as similar to comparing an economy car to a luxury car.

To train personnel adequately to use the new radios and to create signals units within the Iraqi army, the general established a communications training school in Taji, 20 miles north of Baghdad. Opened in July, the facility has 20 classrooms and two conference rooms. Gen. Saad explains that the school is intended to meet a key need for the Iraqi army, which has no dedicated signals component. "They [coalition forces] established our divisions, brigades and battalions without any signal units," he laments.

The general is embedding signal companies in each division-, brigade- and battalion-size unit. But adequately staffing the army's signal units will require 3,600 communications personnel. Although the school will provide these troops, it faces time challenges. Gen. Saad notes that the basic training course takes four to six months and that the school is designed to hold 300 students. This means that in one year, he can graduate only 600 people. "My need is 3,600 [people]. When can I match my need?" he asks.

The school's curriculum is designed around four types of courses: basic and advanced courses for officers, and basic and advanced courses for enlisted personnel. But the urgent need for communications specialists has forced the school to offer only basic courses until the situation stabilizes. "Yes, they will not be trained enough, but it will match what we need," the general admits.

Another issue is the transition of the primary responsibility for providing national security to Iraqi forces. But if the signal units are not fully staffed, Gen. Saad believes that it will affect the progress of the rest of the army, which may prevent coalition forces from withdrawing from Iraq. "They [coalition forces] will have to stay until I'm in the green. And you know they want to go home and they want Iraq to be administered by its own people. But they want them to be qualified people who are able to secure this country. So we have to accelerate the training process," he maintains.

Attracting qualified instructors for the new school also has proved to be a challenge. "We are trying to get the best [people] from our former army. But we are facing recruiting difficulties because of the bad reputation of the old army. So we selected some of our people and trained them, trained the trainers and sent them to Taji," Gen. Saad says. The trainers are backed by engineers and other support personnel.

The school along with its communications instruction also is a part of the army's promotion process. "You can't get promoted from captain to major until you pass some courses. This training is a part of our doctrine," he says.

 
The Iraqi army has established a communications training school to provide its formations with dedicated signals specialists. The school currently is operating on an accelerated schedule to train the thousands of soldiers necessary to operate and maintain its communications infrastructure.
The U.S. Army has extended an invitation to the Iraqi army to send three officers a year who are between the ranks of lieutenant and captain for training at
Fort Gordon, Georgia
. However, there are language difficulties because many candidates do not speak English. The general notes that the Iraqi army is taking overseas communications training courses with NATO nations.
Even with the school established, Iraq's army still lacks equipment. Gen. Saad admits that he needs communications not only for command and control but also for joint, intelligence and logistics operations.
The recently acquired HF radios feature many capabilities that have proved useful to Iraqi forces. The radios are all the same form factor, but they are in a variety of configurations, ranging from handheld and manpack systems to vehicular and base station units. The general likes the radios' high military standards, which allow them to operate in Iraq's harsh climate, and their security. He notes that he has an agreement with the U.S. military to use Level 2 encryption, which enables his forces to interoperate with coalition forces. In the future, Gen. Saad hopes that this capability also will allow Iraqi forces to interoperate with NATO units.
The general adds that the new radios permit his forces to communicate with British forces based in the Basra area. Five radios were installed on coastal and river patrol boats to communicate with ships and forces operating in the southern half of the country.
Another important feature of the tactical radios is their spread spectrum technology. Because the radios use frequency hopping techniques, it is difficult for insurgent forces to track army communications. In addition, the tactical systems can communicate with commercial radios. The general says this feature is important because the Iraqi army will not immediately get rid of the thousands of commercial systems it has purchased.
Besides needing tactical HF systems, the Iraqi army currently lacks very high frequency (VHF) spectrum communications equipment. Gen. Saad notes that there is an open tender to supply the first phases of VHF and ultrahigh frequency (UHF) communications networks in the country. He adds that there is a need for VHF systems for echelons at the battalion level and below.
The army also requires multiband radios that can interface with other communications systems over the tactical UHF spectrum. The general admits that although the Motorola radios are useful, they cannot communicate with other tactical systems.
Gen. Saad says that the biggest challenge he is facing is establishing the Iraqi army's communication infrastructure. He explains that he currently relies on tactical radios and some very small aperture terminals for satellite communication. "I have no microwave.I have no fiber optics. I have no troposcatter," he says.
In the future, the general would like to establish an army communications infrastructure built on fiber optics and microwave systems, but funding remains an issue. Gen. Saad explains that his budget is insufficient to purchase the tactical radios the army needs, noting that he requires at least $100 million to $106 million to acquire an adequate number of tactical radio systems. He estimates that the Iraqi army may need more than 10,000 HF radios. "The communications infrastructure needs a lot of money and a lot of time to establish. We are in a hurry—we have no money and no time," he says.
Web Resource
Multi-National Security Transition Command–Iraq: www.mnstci.iraq.centcom.mil
Enjoyed this article? SUBSCRIBE NOW to keep the content flowing.
---