SOUTH FLORIDA CHAPTER - 05/21/2023
The chapter held its second annual Scholarship Luncheon in May and recognized three scholarship awardees.

Each awardee received a check for $300 and one-year AFCEA membership: Private First Class Leeane K., USA, Hollywood, Florida, is majoring in computer and electrical engineering at Norwich University's School of Cybersecurity, Data Science, and Computing.

Angela L. of Sunny Isles, Florida is completing her senior year of high school in advanced academics at Florida International University. She has been accepted to Norwich University's College of Engineering, where she plans to study biomedical engineering.

Oriana R. of Weston, Florida, is a cybersecurity management major at Nova Southeastern University's College of Computing and Engineering.

The chapter's keynote speaker Maj. Garnett Lias, USA, chapter second vice president, commander, U.S. Army Network Enterprise Center-Southern Command, gave a phenomenal speech on the importance of STEM Scholarship ... READ MORE
---
HAWAII CHAPTER - 05/21/2023
The chapter's STEM Grant Program for teachers and community organizations has awarded 71 STEM grants to $128,000 in just three years. The chapter's Education Committee continues the STEM Scholarship Program efforts that the AFCEA Hawaii Education Foundation managed until it was disestablished. The Education Committee developed a grants program for K-12 STEM teachers and community organizations such as ISC2, Girl Scouts of Hawaii and the Boys & Girls Club. This year, the chapter had the honor of receiving invitations to witness the impact of the grants on schools and the community.

In March, chapter board members were invited to Assets High School, Honolulu, for its robotics showcase with Team Waffles and Team Metal Engineering Assets Flamingos. The robotics demonstration was attended by ReShonda McKee, chapter vice president of education programs; Vincent DiRienzo, chapter vice president of cyber programs; and Yogi Fong, chapter secretary. Assets High received two grant award ... READ MORE
---
TURKIYE CHAPTER - 05/17/2023
In May, the chapter held a webinar on "The Effects of New and Game-changing Technologies on Military Strategy." New age developments have deeply penetrated and shaped lives with many extraordinary phenomena such as the internet, smart phone, digital money, digital state, social media and metaverse. Where digitalization and emerging technologies have long affected social and economic life, this has led to the development of military thought and has made important contributions to this point of view. It also affects the forms of performance and forces revolutionary changes. The webinar, in which the topic and the approaches of the important actors in the world were clearly conveyed, the participants shared their experiences and knowledge, along with new perspectives and information.
---
NORTHERN VIRGINIA CHAPTER - 05/11/2023
In May, the AFCEA NOVA Small Business Committee hosted the Small Business Enterprise IT Day in Herndon, Virginia. The event brought together 250 people from industry and government to network and connect. The theme of the event was "Breaking Down Barriers to Maintain the Competitive Advantage" and featured keynote speakers Farooq Mitha, director, Office of Small Business Programs Director, U.S. Department of Defense, and Michelle Goddard-Kim, chief diversity officer, Defense Information Systems Agency (DISA). Many of the Office of Small Business Programs directors attended and participated in panels during the day. The panelists included Carlen Capenos, DISA, Kimberly Buehler, U.S. Army, and Scott Kiser, U.S. Air Force. In addition, Lisa Wood of Procurement Technical Assistance Center (PTAC), an Apex Accelerator, led an industry panel.
---
PACIFIC NORTHWEST CHAPTER - 05/10/2023
In May, the chapter installed the chapter officers for the 2023-2024 fiscal year. Tim Martin, regional vice president, led the ceremony and presented the AFCEA Chapter Flag to Col. Charles D. (Dean) Smith, USA, as the chapter president. Col. Smith thanked Col. Liz Casely, USA, the outgoing chapter president, for her leadership over the past year. Col. Smith previously served as the vice president for membership. Martin also presented the chapter with the Albert J. Myer Award for Individual Member Recruiting for the past year. Also, during this annual meeting, Morgan Zantua, executive director, City University of Seattle's Center for Cybersecurity Innovation, a National Security Agency/U.S. Department of Homeland Security designated Center of Academic Excellence, provided the keynote address to the more than 30 attendees.
---
HAMPTON ROADS CHAPTER - 05/07/2023
Congratulations to the 2023 AFCEA International Spring Awards winners presented at the annual TechNet Cyber Conference in Baltimore in April. Larry Minnick won the Leadership Award; Hillary Boyce won the Meritorious Service Award and Matthew Umphlet won the 40 Under 40 Award. Congratulations again to the devoted AFCEA Hampton Roads Award winners! And thanks to the chapter members who attended the Awards Dinner and Conference: Neil Bourassa, Palmer Sims and Teresa Duvall. It was a great evening of awards, fun and fellowship.
---
GREATER OMAHA CHAPTER - 04/27/2023
In April, Jesse E. Bell, director, Water, Climate and Health Program, the University of Nebraska Medical Center, Omaha, Nebraska, was the guest speaker for the first Dinner With a Scientist event held at Bellevue University. Bell engaged the audience with his story of how he became interested in science. As a little boy, he accompanied his father on outdoor excursions where they engaged in hunting and fishing. His father often turned him loose, and he would hike great distances and see many interesting things. From this early age, Bell was fascinated with the outdoors and tried to understand the natural world around him. This formed the basis of what Bell wanted to do with his life. He discussed his years of education, where he formalized his love of biology and doing research, leading him to a path of applied research. Bell talked about his travels and the jobs he held, each one uniquely preparing him for his work in Lincoln, Nebraska, focused on the environment and its effects on ... READ MORE
---
GREATER OMAHA CHAPTER - 04/27/2023
In April, Douglas Rausch, director, Cybersecurity Education, and program director for Undergraduate and Graduate Cybersecurity Programs, Bellevue University, Bellevue, Nebraska, spent time with the chapter discussing workforce pathways. Rausch talked about initial STEM exposure for middle school students coming in the form of GenCyber Camp supported by the National Science Foundation and activities like Dinner with a Scientist and Internet of Things-type courses through the university. The objective is to open the students' eyes to STEM. After they know what STEM is, they must decide what to do with it. Rausch continued by discussing high school engagements geared to tweak students' interests like CyberPatriot competitions and VEX Robotics events.

Rausch commented on instruction assistance methods like RING, where high schools engage in cybersecurity curriculum, labs and developing faculty by certifying them in computer education. Rausch next talked about college, where stu ... READ MORE
---
CZECH CHAPTER - 04/27/2023
The finals of the national competition in cybersecurity of the Czech Republic organized by the Center for Cyber Security z.u., Czech Cyber Security Working Group (AFCEA) and a number of state, academic and professional organizations took place in April at the Skoda Museum in Mladá Boleslav.

The finals were attended by 60 top male and female students from primary, secondary and higher schools from all over the Czech Republic, who competed in three age categories. The contestants made their way to the final by successfully completing two online elimination rounds, in which more than 7,100 students participated. Once again, girls comprised more than 31% of the competitors.

Several accompanying educational, professional and entertaining activities were organized as part of the national final of the competition. A teachers' conference focused on digital technologies, cybersecurity and the new framework educational program Nová Informatika took place in the main hall of Laur ... READ MORE
---
TURKIYE CHAPTER - 04/13/2023
The chapter organized a webinar in April titled "Pedestal Mounted Stinger Project, Achievements and Lessons Learned." The chapter enjoyed the presentation of Brig. Gen. Cemal Alagoz (Ret.) and learned that the project was a milestone in the development of the Turkish defense industry and its support for the establishment of important infrastructure despite the technological inadequacies of the time. The chapter is grateful to him for this spectacular webinar and contribution to the breakthrough of the Turkish defense industry and would like to express its endless gratitude on behalf of all the participants, the Turkish Defense Industry News Group and the chapter for the support provided to this chain of webinars. The chapter hopes to continue these with the idea that knowledge increases when shared.
---
CZECH CHAPTER - 04/12/2023
In April, the chapter's cybersecurity working group, in cooperation with the National Police Academy of the Czech Republic and the National Cyber and Information Security Agency, prepared a one-day professional program focused on the current state of cybersecurity in the Czech Republic, recent technological trends and digital transformation. More than 50 experts from government, military, academia and the private sector also discussed supply chain security issues and the new European Union (EU) cyber certification scheme and shared best practices in cybersecurity. Petr Jirasek, regional vice president, Central Eastern Europe, opened the seminar and also presented information about Czech cybersecurity projects run by the chapter as well as the Czech Cyber Center. The seminar will be followed by two other security seminars focused on cybersecurity and artificial intelligence and new EU Network & Information Security 2 directive.

---
NAPLES CHAPTER - 04/06/2023
Each year, AFCEA International receives joy-filled Easter greetings from the chapter. This year, cosplayer Federica Palmieri dressed as Black Widow from the Avengers to deliver the message.

Happy Easter!
---
HAWAII CHAPTER - 04/05/2023
The chapter's fiscal year 2023 began April 1, 2023, and runs through March 30, 2024. Although the chapter's new FY 2023-2025 board of directors and advisors officially began their tenure at its April board meeting held at Hale Ikena, Fort Shafter, Hawaii, many of its members began meeting in various smaller groups to strategize on goals and plans for the upcoming fiscal year.

The FY 2023-2025 chapter board of directors are:
Brandon Lester, chapter president; Richard 'Dick' Palmieri, executive vice president; Dave Pisanic, treasurer; Yolande 'Yogi' Fong, secretary; Linda Newton, past president. The directors, who also lead as vice president for a committee are: Mark Cleaver, director, vice president of awards; Victor 'Vic' Perez, director, vice president of communications and information technology support; Jeff Bloom, director, vice president of corporate affairs; Vincent DiRienzo, director, vice president of cyber; ReShonda 'Shon' McKee, director, vice president of edu ... READ MORE
---
SAN DIEGO CHAPTER - 04/04/2023
The Naval Applications of Machine Learning (NAML) workshop was a three-day in-person event, offering two separate agendas with multiple tracks: a two-day unclassified program and a single day classified program. The unclassified program was held at the University of California San Diego's newest and vibrant platform, Park & Market, located in downtown San Diego. Poster sessions were held at the end of day one and two to allow for further interaction, discussions and Q&A between researchers, military, industry and academia attendees. The classified program was held on base at the Naval Information Warfare Center (NIWC) Pacific.

NAML is the premier annual event showcasing current machine learning research relevant to naval applications. Participation is welcomed from the defense community, industry, academia and student populations. The NAML workshop is an opportunity for researchers from Navy research and development centers and partner organizations to exchange technical ... READ MORE
---
ROCKY MOUNTAIN CHAPTER - 04/04/2023
The chapter thanks everyone for participating in this year's Rocky Mountain Cyberspace Symposium. With more than 3,300 attendees, 153 exhibits, 33 sponsors and 24 speakers, this event couldn't happen without the volunteers, including 10 volunteer committee members. Funds raised during this symposium help the chapter give over $500,000 to the local community in STEM scholarships and teachers grants, as well as donations to other STEM-related programs. The AFCEA Pikes Peak Robotics Classic 2023 Signature Event occurred at the same time with 40 teams from around the country and Canada.
---
TURKIYE CHAPTER - 03/30/2023
The chapter enjoyed the March talk on "Military Planning, Management Approach and Fighting Against Earthquakes." The webinar made significant contributions to members' perspectives on the application of planning, management, training and logistics methods applied in military activities to defense measure studies against disasters related to the survival of the country.

The chapter is grateful to Lt. Gen. Nazım Altintas, Turkish Army (Ret.), and would like to express endless gratitude on behalf of all the participants and the Turkish Defense Industry News Group for the support provided to this chain of conversations. Chapter members believe and wish to continue the idea that knowledge increases when shared.
---
GREATER OMAHA CHAPTER - 03/29/2023
In March, Rahul Jalali, senior vice president and chief information officer, Union Pacific Railroad, Omaha, Nebraska, spent time with the chapter discussing his role at Union Pacific (UP). Jalali began by exclaiming that his life has been "R & R," where he has gone from "retail" to "railroad."

In addition to the mission, he was drawn to UP's purpose of building America. One guiding principle he learned early is that if a company does not have technology as its organization's headlight, it will cease to exist. He added that 53% of companies had gone away for not following this guideline. Jalali discussed the challenge of integrating technology but doing it in a modern way. A company needs to establish a tech culture of innovation. Jalali elaborated that to make some changes, he had to become completely obsessed with what the customer wanted. What is the customer's obsession? Jalali also talked about taking full advantage of the cloud and implementing an architecture accommodat ... READ MORE
---
AUGUSTA-FORT GORDON CHAPTER - 03/28/2023
In March, Col. Leslie Gorman, USA, director, U.S. Army Cyber Command, presented the chapter with an overview of offensive cyber operations versus defensive cyber operations.
---
LEXINGTON-CONCORD CHAPTER - 03/22/2023
In celebration of Women's History Month, the chapter partnered with the Hanscom Women's Forum to offer a self-defense class to women in the surrounding community. The class provided practical nonverbal, verbal and physical self-defense skills taught in a fun, safe and empowering class. Community members worked up a sweat and bonded over kicks and cupcakes!
---
SLOVAK CHAPTER - 03/22/2023
Cybersecurity-level assessment, trends in cyber crime, detection of security incidents and methods of protection of information systems were addressed during an event intended for employees of the public sphere, which was organized in March by the chapter, Comenius University in Bratislava and Microsoft Slovakia. "The public sector in Slovakia faces current information threats and is becoming a target for attackers in cyberspace," said Marek Stevcek, chancellor of Slovakia's largest university, praising the platform that brought together the private and public sectors on campus to map current cybersecurity topics with an aspect to public administration and practical recommendations.

Recognized experts in this field in Slovakia and the Czech Republic gave speeches assessing the current situation and identifying sufficient education and lack of information technology (IT) staff as key problems in the public sphere. They agreed that prevention, creation of employee safety awaren ... READ MORE
---
CENTRAL FLORIDA CHAPTER - 03/22/2023
Brig. Gen. James Turinetti, USA, U.S. Central Command (USCENTCOM) J6, addressed the chapter at its March Luncheon. He commented on three general areas for the J6: people, partners and innovation. Mainly speaking about innovation, he announced CENTCOM has hired a chief information officer for the first time and will be creating a "Shark Tank" type event in the coming months. They are also working on a website for vendors to interact with the command and to introduce new technologies. The chapter recognized Lt. Megan Getlinger, USAF, and Cheyenne Hasse with Leadership Awards for the first and second quarter. The chapter would like thank Title Sponsor GDIT/ARMA and raffle sponsors SAIC and Crystal Clear Technologies.
---
HAWAII CHAPTER - 03/15/2023
The chapter's monthly luncheon in March was packed with more than 94 attendees, including uniformed active-duty soldiers, civilian government, industry, veterans, wounded warriors, academia (including a cadet just accepted to West Point as part of the Class of 2027) and AFCEANs from multiple CONUS-based chapters. Army, Navy, Air Force, Marines, Coast Guard, Defense Information Systems Agency and other joint command personnel showed up in force.

Chapter Director and Vice President for Events Makana Anicas had the honor of introducing to the chapter Brig. Gen. Mark Miles️, USA, Indo-Pacific Command J6, who spoke on his top three priorities: mission partner environment, data-centricity and zero-trust initiatives

The chapter honored Emerging Leaders: Staff Sgt. Ruby Alcaide, USAF, Pacific Air Forces Cyberspace Systems Squadron; Stephen Cole, senior government leader, Pacific Air Forces; and Moune Tabalno, executive leader, Lumen, as our monthly award recipients.
---
AUGUSTA-FORT GORDON CHAPTER - 03/15/2023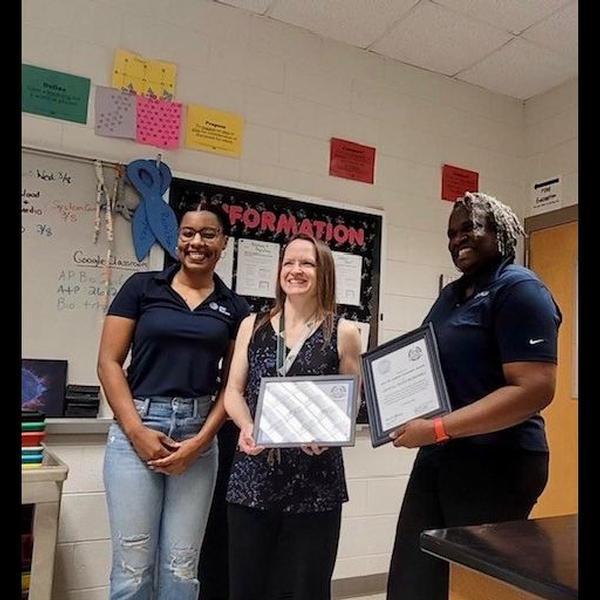 In March, Crystal Davis MacDowell, a teacher from Greenbrier High School, Evans, Georgia, was the recipient of the prestigious Dr. Sandra Carraway Award presented by the chapter.
---
AUGUSTA-FORT GORDON CHAPTER - 03/15/2023
In March, the chapter presented several local science, technology, engineering, arts and math (STEAM) teachers with grants to aid in advancing their curriculum. Recipients included Javen McCaster of Bayvale Elementary, Amy Edwards of Hillville Christian Academy and David Kassner of Lakeside High School.
---
AUGUSTA-FORT GORDON CHAPTER - 03/15/2023
In March, the chapter made a large donation to support the CSRA Alliance with funds to send more than 150 students (from kindergarten to 11th grade) to CyberPatriot summer camps in 2023 for free.
---
KAISERSLAUTERN CHAPTER - 03/12/2023
The 2023 SkillsUSA European Championships had a strong STEM presence for the students of the Europe East district. More than 240 high school students registered in one of 12 STEM-CTE (career technical education) contests. Each contest required students to take their skills beyond the classroom and apply them in several industry-relevant challenges.

SkillsUSA is the largest nonprofit national education association of its kind, offering quality educational experiences for students in leadership, citizenship and character development. Serving more than 400,000 members, SkillsUSA is committed to producing the world's most highly skilled workforce through education programs and competitions.

Students from across the district had an opportunity to win $16,000 in scholarships and prizes courtesy of the chapter. The chapter has hosted SkillsUSA New York Area VII (Europe) for the past six years by identifying top industry and military professionals to design, administer and jud ... READ MORE
---
LEXINGTON-CONCORD CHAPTER - 03/11/2023
MATHCOUNTS was held at University of Massachusetts Lowell in March. The event promotes middle school mathematics achievement through coaching and fun "bee style" competitions nationwide. This STEM-related competition is one of the country's largest and most successful education partnerships involving volunteers, educators, industry sponsors and students. AFCEANs proctored the Massachusetts competitions, graded exams and presented a $250 donation toward a scholarship fund to the top four state students heading to the national competition. The AFCEA team included Michele Cimino, Lynn Demirbas, Alex Swope and Will Keller.
---
HAWAII CHAPTER - 03/10/2023

Scholarship and grant season is open, and the chapter highly encourages Hawaii-based high school seniors, college students, teachers and organizations to apply. Awards will be applied to the 2023-2024 school year.

The chapter works with the community at large (private, public and academic) to increase the investment in STEM education throughout Hawaii.

The chapter has a long history of supporting Hawaii-based students, teachers and professionals and has contributed over $2,000,000 in scholarships and grants to enhance learning and education initiatives in STEM.

Former recipients are eligible to apply.
---
ROME CHAPTER - 03/09/2023
In March, the chapter organized the event 'Veeam: A Journey From Traditional 'Restore' to Complete 'Recovery' Against Cyber Threats" in collaboration with the company Veeam Software. It was held at the Network Operations Command (COR) in Rome.

The event aimed to explore the topics related to data protection as a key asset to ensure continuity of services and protection from cyber attacks in sensitive environments with strategic infrastructure for the country's system.

The workshop was opened by Lt. Gen. Antonio Tangorra, ITAF (Ret.), chapter president, who later introduced the keynote speaker, Cmdr. Carlo Roatta, of TELEDIFE- Informatics, Telematics and Advanced Technologies Directorate. Cmdr. Roatta presented and elaborated on the role of TELEDIFE in the defense cyber scenario, highlighting the main areas of focus divided between contractual activities, PNRR (National Restart and Resilience Plan), PNRM (National Military Research Plan) and technical regulation develop ... READ MORE
---
TURKIYE CHAPTER - 03/09/2023
Chapter board members visited the office of Erdal Torun, deputy general manager of Meteksan Defense Industry Inc., one of the leading actors of the Turkish defense industry. During the visit, members discussed Meteksan Defense's contributions to the defense industry of Turkiye and expressed their opinions about the communication and information-sharing opportunities provided by the international platforms of nongovernmental organizations. They also discussed the necessity of exports for the sustainability of developing defense industry and the importance of international relations and promotions for this purpose.
---