DAYTON-WRIGHT CHAPTER - 12/04/2019

The chapter's 2018 membership and sponsorship appreciation event was held in December at the Hope Hotel at Wright Patterson Air Force Base, Ohio. The holiday event has been held annually for over two decades for the members and sponsors in appreciation of their support and participation in the chapter. Many new individual and corporate members were added among the one hundred attendees. The chapter plans to hit the ground running in 2019 with these hot aerospace event topics: Artificial Intelligence, Autonomy and Trusted Systems; The Changing Nature of Installation Mission Defense; Mission Assurance and Cyber Defense; Cybersecurity; Defensive vs Pro-Active; AI and Deep Analytics; Where Do We Find the Bodies to Do Tomorrow's Cyber?; Cyberspace - What does it really mean?; Where does it start, Where does it end?; What's in S&T Futures for: Comm, Cyber, Electronics and Emerging Technologies?; USAF's Emerging Mission in Cyber Spaces; STEM Today and Cyberspace Tomorrow.

---
ROME CHAPTER - 10/12/2019
The October event represented an opportunity to analyze the initiatives for increasing women's roles in STEM and to support this cultural change, as well as to introduce the chapter's Women in AFCEA subcommittee. Gen. B. L. Carpineto, chief, Italian Army Transmission Command, welcomed all participants, underlining the growing presence of women in the armed forces. The opening remarks were given by Lt. Gen. Antonio Tangorra, ITAF (Ret.), chapter president, and he illustrated how AFCEA is paying more attention to the themes in which education plays a crucial role. Fiorella Lamberti, coordinator, communications team, IEEE Women in Engineering Affinity Group, introduced the chapter's Women in AFCEA, describing the group's main objectives and the activities in coordination with AFCEA International. Tina Jordan, vice president, AFCEA International, sent a video message with her greetings. Monica Parrella, coordinator, Office for Equality and Equal Opportunity Action at the Italian Prime M ... READ MORE
---
ALAMO CHAPTER - 06/18/2019
The Air Force Development Team (DT) met at Randolph Air Force Base in San Antonio to discern who the future command officers will be and to guide the development of the officer's careers. The chapter's June monthly luncheon coincided with the Air Force DT and brought together each A-6 from every MAJCOM as well as chapter members and attendees. Guest speaker, Maj. Gen. Kevin Kennedy, began with, "Where are all the good ideas?" He explained that our world is not getting less complicated, but actually quite the opposite. "Our adversaries are extremely competitive and effectiveness is the first job." Honing in on capabilities to be laser focused on efficiency and effectiveness is important due to the financial obligations that are tied to securing the military's force. It costs an estimated $37.4 billion for IT to include weapons. "We do not want to get into a spending competition with our adversaries, which is why digital modernization is key for the Department of Defense." Gen. Kenned ... READ MORE
---
POCONO MOUNTAINS CHAPTER - 06/05/2019
The annual luncheon celebrating the birthday of the U.S. Army was held in June at Tobyhannna Army Depot. Brig. Gen. Wilbur Wolf, USA (Ret.), was the guest speaker. During his remarks, he observed that the old Army adage of being able to move, shoot and communicate wasn't good enough any more. He predicted that the next war will be in an environment of a threatened or disabled network. The general observed that the Army has become network dependent and a "Dark Sky" scenario is likely. He urged the Army to "train [for this scenario] before the network goes down and the lights go out" and postulated that there must be a training standard to create soldiers who are "digital master gunners" as well as "cave man fighters." Gen. Wolf's insightful comments were well received.
---
HAMPTON ROADS CHAPTER - 06/04/2019
The Maritime IT Summit was hosted in June by the chapter in conjunction with the DON IT Conference, East Coast 2019. This was the third annual summit held at Hilton Norfolk The Main Hotel near the Norfolk waterfront. Key events included the Young AFCEAN social, small business events, HackWarz cyber competition, and the sponsored monthly chapter luncheon.
---
DAYTON-WRIGHT CHAPTER - 06/04/2019
Government, contract logistics and information technology professionals gathered at the Fourth Annual Dayton-Wright AFCEA and Wright Brothers Logistics Officers Association Air Force Logistics IT Summit at Wright State University, Fairborn, Ohio, in June.

Keynote speakers included Maj. Gen. Allan E. Day, USAF; Sara Keller; Shawn Lyman; Shawn Harrison; Roy Lancaster; Col. Chuck Destafani, USAF; Rich Aldridge; and Staff Sgt. Shiloh Harris, USA (Ret.).

With an upcoming move to Fort Belvoir, Virginia, Gen. Day was serving his final day as the director of logistics, Civil Engineering, Force Protection and Nuclear Integration, at Headquarters Air Force Materiel Command, Wright-Patterson Air Force Base, Ohio.  He opened the summit by addressing the fact that Air Force logistics are at a critical point in history. He referenced a 2018 article by then Secretary of Defense Jim Mattis, who said every U.S. weapon's system is at this same critical point called a strategic inflectio ... READ MORE
---
DAYTON-WRIGHT CHAPTER - 06/03/2019

The Dayton-Wright Chapter & Logistics Officer Association Daniel J. Curtis Memorial Golf Tournament was held in June at The Country Club of the North, Xenia, Ohio. Proceeds from the event benefit the chapter scholarship fund and the Logistics Officer Association's outreach efforts. The event is held in memorium of past president Daniel Curtis. Over 100 attendees enjoyed golf and networking. In keeping with tradition, the chapter and Wright Brothers Loan Officer Association (LOA) team hosted the tournament the day before the Fourth Annual Air Force Logistics IT Summit. This event is intended to enhance the dialogue between U.S. Air Force logistics leaders and government/industry community on the future-state information technology needs of the department. The golf event featured breakfast, range practice and lunch at the clubhouse after golf rounds. The summit centered on data-driven readiness-a chief goal of the Air Force. Event chairs were Steve Hannaford; David Dodds, chapter pres ... READ MORE
---
ALAMO CHAPTER - 05/30/2019
The chapter's Young AFCEANs had their first Tech Talk of the year at the Quarry Golf Club in San Antonio. Mentors and YACs mixed, mingled and networked for a social hour before guest speaker, Brig. Gen. Jeff Kendall, USAF (Ret.), took the stage to discuss National Cybersecurity Policy. Gen. Kendall explained there are challenges for leadership to push policies and make corrections at the speed that technology is changing. "How do we now manage that implementation?" Politics and policy run hand in hand. The open dialogue allowed for attendees to discuss cybersecurity and cyber hacks within their respective work areas and how to potentially manage risks. The Young AFCEANs meet every fourth Thursday of the month.
---
GREATER OMAHA CHAPTER - 05/23/2019
In May, Vice Adm. David Kriete, USN, deputy commander, U.S. Strategic Command (USSTRATCOM), Offutt Air Force Base, Nebraska, spent time with the chapter discussing nuclear command, control and communications (NC3) as the fourth Arm of the TRIAD. Adm. Kriete emphasized the necessity of having the right gear and the right message. He commented on how the traditional triad now has a fourth leg consisting of NC3, which is fostered by groups like AFCEA. NC3 depends on being able to rapidly connect in a secure means to get something done. Orders are given in adverse conditions where NC3 is increasingly important. Adm. Kriete commented on NC3 today versus NC3 tomorrow where it must remain safe, secure, and reliable. The next NC3 challenge will be to explore an NC3 architecture that will transcend into the future. Adm. Kriete said the cyber threat has been increasing in frequency and capability. USSTRATCOM's significance is in bringing global effects/impacts to bear. Adm. Kriete concluded b ... READ MORE
---
GREATER OMAHA CHAPTER - 05/23/2019
In May, the chapter partnered with National Conference Services Inc. to conduct a Technology Showcase at the Lied Activity Center, Bellevue, Nebraska. The showcase featured 12 different companies: BAE Systems Inc., Arlington, Virginia; Belkin International Inc., Playa Vista, California; Connection Public Sector, Rockville, Maryland; Daktronics, Brookings, South Dakota; Diversified, Kenilworth, New Jersey; Dynamic Systems Inc., Austin, Texas; Fire Eye, Milpitas, California; Iron Bow Technologies, Herndon, Virginia; Lexmark International Inc., Lexington, Kentucky; Logistics 365, Norfolk, Nebraska; Sterling Computers Corporation, Dakota Dunes, South Dakota; and Winsted, Minneapolis.
---
MONTGOMERY CHAPTER - 05/23/2019
In May, the chapter's Young AFCEA Advisory Council (YAAC) and TechMGM hosted their first esports competition, Gump Goes Gaming. Participants from across the city gathered at the new MGMWERX facility to enjoy a night of video games and an opportunity to network. Students from St. James, Park Crossing, Alabama State University, Troy University, and airmen from the Maxwell-Gunter Annex Air Force Base spent the evening competing in the popular games of Call of Duty and Super Smash Bros. Fueled by pizza and soda, players strategically eliminated each other round by round, hoping to win the top cash prize and trophy. At the end of the night, emcee DJ Squared announced a team of airmen as the overall winners. Montgomery YAAC and TechMGM have plans to host more esports competitions. Montgomery, Alabama is rapidly advancing technologically, and these events provide ample opportunity for high school and college students to network and gain exposure to careers in the information technology fie ... READ MORE
---
PORTUGAL CHAPTER - 05/23/2019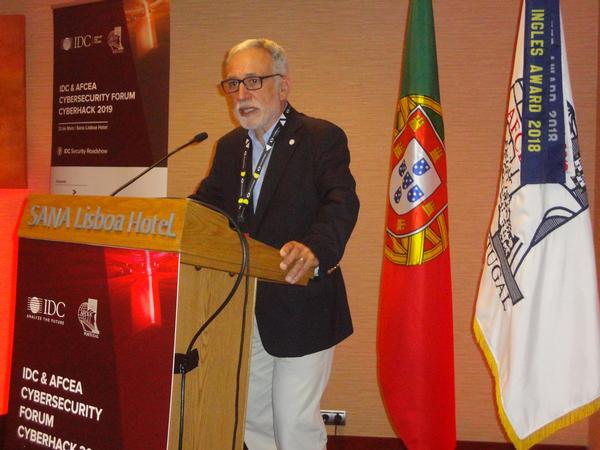 In May, the chapter, in partnership with IDC Portugal for the eighth consecutive year, hosted the IDC & AFCEA Cybersecurity Forum 2019, at Hotel Sana Lisboa, in Lisbon. More than 440 representatives from the military, industry and scientific community attended the forum. Facing the evolution of threat landscape and the pressure of regulatory reforms, the role and nature of enterprise security is changing. The forum's objective was to introduce the security solutions and approaches that demonstrate security-enabled business outcomes.
---
ABERDEEN CHAPTER - 05/21/2019
At the Annual Scholarship Awards Dinner in May, the chapter was proud to commit more than $89,000 in scholarships and grants to STEM students and educators from the local area. These funds are pledged to benefit both high school and community college transfers who are pursuing a four-year degree in a STEM field, as well as local educators and schools that are inspiring the next generation of leaders in STEM professions. Awards included the presentation of the first Cyber Defense Full Scholarship, a partnership with Harford Community College, Bel Air, Maryland; two Science Teacher Toolkit Awards; five STEM Awards for local teachers; two scholarships for community college transfer students; and six high school scholarships for graduating seniors. The guest speaker for the event was Kerry Anne Kedzierski, a physics teacher at North East High School, North East, Maryland, and a two-time grant recipient of chapter STEM grants, who spoke to the benefit of receiving these funds to purchase ... READ MORE
---
ALAMO CHAPTER - 05/21/2019
"We have a contested, congested information sphere," said Col. Todd Vician, commander, Air Force Public Affairs Agency, Joint Base San Antonio-Randolph, Texas. The chapter welcomed Col. Vician during its latest luncheon to speak on the Public Affairs mission. He explained that Public Affairs is key with regard to threat management. "We have to provide and document information for dissemination." In response to a natural disaster, a quick response and turnaround is warranted. There are challenges in providing the correct information at the right time. Social media and advertisements are competing for the same attention span of information within the Air Force. "Data integrity is an issue. Information is a joint function that can lead to success or to failure." Col. Vician reminded attendees that data is as important as ammunition. "We are influencing the attitudes and behaviors of our adversaries."
---
NORTHERN VIRGINIA CHAPTER - 05/17/2019

The chapter transitioned into the summer with their monthly luncheon held in May. Government and industry officials showed their dedication and proactive business efforts by attending the event, engaging with the keynote speaker and participating in an open-ended and lively discussion. The highlight was Robin P. Swan, director, Office of Business Transformation, Office of the Secretary of the Army, Washington, D.C., who delivered an engaging, direct and informative speech about Army Reform and Futures Command. For those who missed the lunch, no need to fret because here is the rundown on what transpired during the day. Starting off the luncheon on an interactive note, attendees filtered into the Sheraton of Tysons Corner, Virginia, where they had the opportunity to network and expand their business connections. When the main doors opened, it was unclear whether it was the carrot cake or chimes that enticed people to come in. All chapter members should note that there was an update t ... READ MORE
---
DAYTON-WRIGHT CHAPTER - 05/16/2019

The May luncheon was held at the Holiday Inn Conference Center, Fairborn, Ohio, and drew over 100 government, civilian and military members. The panel luncheon was moderated by Rebecca Onuskanich of International Cyber Institute, and the panelists were Aaron Miller of Galois Inc., Samuel Wanderi of Menya Communications Ltd. and Devon Twesten of HumanIT Solutions LLC. The panel focused on The State of the Possible and Pace of Change in Cybersecurity. Topics included agile and SecDevOps, cyber resiliency, 5G networks, survivability, static/dynamic code and CICD environments. The luncheon programs were sponsored by Gartner, and corporate sponsors were Segue Technologies Inc, The MITRE Corporation and FTI.

---
HAWAII CHAPTER - 05/14/2019
In May, the chapter heard from guest speaker, Dave Stevens, director, University of Hawaii IT program and cybersecurity instructor, as he discussed open source intelligence (OSINT). OSINT is cyber intelligence information that is publicly available and gathered from radio, television, newspapers, commercial databases, electronic mail or portable electronic media. OSINT is tremendously useful when hackers need to gather the names and biographical information of relevant employees, such as CEOs, chief financial officers and those working in accounts receivable and payable, to execute a successful spear phishing campaign and access a company's data. These personal details lend credibility to the requests for information.

Dave Stevens is the IT program director at the University of Hawaii Kapiolani Community College (KapCC) and the co-founder of Kapu Technologies LLC, a local cybersecurity company focusing on risk analysis and security governance. Dave is the faculty advisor ... READ MORE
---
DAYTON-WRIGHT CHAPTER - 05/13/2019
AFCEA International President and CEO Lt. Gen. Robert Shea, USMC (Ret.), was presented a combat photograph taken by Purple Heart recipient Senior Master Sgt. Kevin Wallace, USAF (Ret.), and Staff Sgt. David Hart, USA (Ret.), vice president, Midwest Region, at the AFCEA TechNet Cyber Conference in Baltimore in May. Hart drives the AFCEA Armed Forces Military Mission Outreach (AMMO) effort, and the event was Wallace's first AFCEA conference in a public relations consulting role. Both Hart and Wallace work for Defense Department contractor Segue Technologies based in Arlington, Virginia, and briefed the members on the tremendous support Segue Technologies has given in providing to Purple Heart recipients and Gold Star Families, through the Blue Skies for the Good Guys and Gals Warrior Foundation and the AMMO effort.
---