ALAMO CHAPTER - 09/20/2023
The chapter was honored to welcome Col. Jonathan M. Boling, USAF, commander, 616th Operations Center (616 OC), for an insightful discussion regarding the continuously evolving nature of the 616 OC. Since its inception that began with the merging of the 624th Operations Center with the 625th Operations Center, the 616 OC is at the tip of the spear for commanding and controlling full-spectrum information warfare operations. The 616 OC supports its mission partners with a focus on maintaining a competitive edge amid ongoing global conflict. Col. Boling emphasized the utmost importance of offering the "right opportunities to the warfighter at the right time and place." His leadership team delivers prompt decision-making and actionable intelligence, elements that are essential in today's rapidly evolving global environment.
---
LEXINGTON-CONCORD CHAPTER - 09/16/2023
In September, more than 200 members from the LEXCON chapter, joined by the motivated ROTC troops from Worcester Polytechnic Institute, the University of Massachusetts Lowell, Boston University and the University of New Hampshire, came out to run the beautiful historic Minute Man Battle Road Trail to raise money for AFCEA STEM scholarships, as well as try for a chance to win a vast array of fabulous prizes. Evan Gaj and Alex Swope, race directors and co-vice presidents of Emerging Leaders, planned this successful event. Overall winner Evan Gaj led the men with a time of 19:10; Nicole Whipkey led the women with a time of 21:20. Age-group winners included Carl Sieber, Paul Kuconis, Scott Pierce, Mike Dimauro, Daniel St. Clair, Joel Macvicar, Logan Pyles, Maria Gonzales, Joanna Wissler, Mourine Jahenda, Megan Constantine, Erika Varady and Sofia Pantano.
---
LEXINGTON-CONCORD CHAPTER - 09/11/2023
In September, the chapter's Fall Golf Tournament was held at the beautiful Atkinson Country Club in Atkinson, New Hampshire, to raise money for the chapter's scholarship fund. Over 80 attendees from government and industry hit the links! At the post-game luncheon, Erin Donlan, incoming chapter president, provided closing remarks, thanking all participants for their generosity, sportsmanship and commitment to a new generation of defense professionals. Golf committee co-chairs Jeff Katz and Dave Burke awarded trophies for the distinguished Alan M. Hart Mentorship Flight, as well as to the winners of Flights 1 and 2. Individual winners of Straightest Drive and Closest to the Pin were also awarded. A great time was had by all for an even greater cause!
---
CENTRAL FLORIDA CHAPTER - 08/31/2023
Chapter members and leaders attended TechNet Augusta in August. They rallied together for a picture at the AFCEA booth on the show floor, which has become an annual chapter tradition for those attending.
---
GREATER OMAHA CHAPTER - 08/31/2023
In August, Gary Sparks, program director, Metropolitan (METRO) Community College Cybersecurity Center, Omaha, Nebraska, spent time with the chapter discussing METRO's Center of Academic Excellence (CAE) efforts. Sparks pointed out that the CAE community consists of universities and community colleges nationwide working through Homeland Security and the National Security Agency to earn their CAE designation. Currently, 400 schools have CAE designation. It is common practice for CAE institutions to share their assignments, classes and best practices. Above all, this promotes ethical standards and standardized requirements for CAE certification. Sparks talked about providing the local community with support for grades K-12 through training and providing relatable content. Sparks commented that the local community often turns to educators to understand the cyber threats around them.

He elaborated on the CAE designation process and clarified that CAE begins after the program of st ... READ MORE
---
LEXINGTON-CONCORD CHAPTER - 08/30/2023
The chapter's annual social was held at the American Heritage Museum in Hudson, Massachusetts, home to the Jacques M. Littlefield Collection, the largest collection of tanks and military vehicles in the world. It was co-chaired by Lt. Col. Kate Coletti and Kim Matthews, and attended by more than 50 chapter members. Pat Hamilton, chapter president, announced he would be stepping aside and Erin Donlan, incoming chapter president, gave a great speech, which was well-received by all.
---
HAWAII CHAPTER - 08/24/2023
In August, the chapter co-sponsored a Tech Talk at Fort Shafter with corporate sponsor Hewlett Packard Enterprise (HPE). More than 125 local industry and defense leaders gathered for the 2023 "U.S. Indo-Pacific Command Theater AI & ML Battlespace Tech Talk: Force Behind the Fight." Subject matter experts Brig. Gen. Mark Miles, USA, J6, U.S. Indo-Pacific Command; Bill Burnham, chief technology officer, HPE; Mike Martinez, director, Cybersecurity, U.S. Army Pacific; and Steve Oberlin, Nvidia, discussed artificial intelligence and machine learning (AI/ML) technology, tools and architectures needed to extract value from data, enable new capabilities and drive digital transformation. The speakers explored and shared a variety of aspects of AI/ML, including AI model development and training, machine learning operations, data labeling, DevSecOps, drones, computer vision, high-performance computing and other new and innovative tools, techniques and products.
---
NORTHERN VIRGINIA CHAPTER - 08/23/2023
The chapter hosted the AFCEA NOVA Small Business Breakfast with guest speaker Lt. Gen. VeraLinn 'Dash' Jamieson, USAF (Ret.), in August at the Oracle Auditorium in Reston, Virginia. Gen. Jamieson dedicated an impressive 37 years to the military. Her career included leadership roles at various levels, leading to her position as director of the U.S. Air Force's Intelligence Surveillance, Reconnaissance, and Cyber Effects Operations. During the event, she shared many fundamental principles she has successfully applied in her business endeavors and personal life since transitioning from the military.

Gen. Jamieson explained that listening is key and good business leaders should listen to their customers, business segments and intuition. She also emphasized the importance of continual learning and embracing emerging technologies to expand one's knowledge to stay ahead of the curve. Additionally, she stressed how critical it is to choose strategic partners wisely, invest in relatio ... READ MORE
---
HAMPTON ROADS CHAPTER - 08/22/2023
For the August Luncheon, the chapter proudly presented Cmdr. Jonathan White, USCG, who is leading the Coast Guard's rapid transition into a multicloud environment to enable application modernization and zero-trust architecture.
---
SAN DIEGO CHAPTER - 08/10/2023
AFCEA San Diego's Small Business program kicked off a new series, InnovateGov, a groundbreaking platform driven by events and workshops to facilitate integrating innovative technologies from small businesses into the national security sector. The platform is designed for collaboration with government agencies, academia and industry to break barriers and foster a new era of innovation in government contracting.

In September, the inaugural program launched, attracting more than 100 small businesses and 150 attendees.

The Naval Information Warfare Systems Command (NAVWAR) has been particularly interested in the new platform. The executive director for NAVWAR, John W. R. Pope, expressed his enthusiasm for this initiative, stating, "InnovateGov presents an exciting opportunity for small businesses to showcase their cutting-edge technologies and contribute to advancing the national security sector. We are committed to collaborating with AFCEA San Diego in empowering small bu ... READ MORE
---
SAN DIEGO CHAPTER - 08/09/2023
The chapter continues its partnership programs with educators and schools in San Diego County. Each year scholarships are awarded to students in STEM.

In August, the chapter proudly hosted the annual 2023 Scholarship Reception at the prestigious University Club Atop Symphony Towers. Eleven outstanding San Diego County high school graduates majoring in a STEM field in college were awarded a $2,000 scholarship, a certificate of achievement and a one-year membership to AFCEA. All these students excelled in academics, were school leaders and gave back to the community through community service. The chapter wishes the recipients a successful future!

---
CENTRAL FLORIDA CHAPTER - 08/04/2023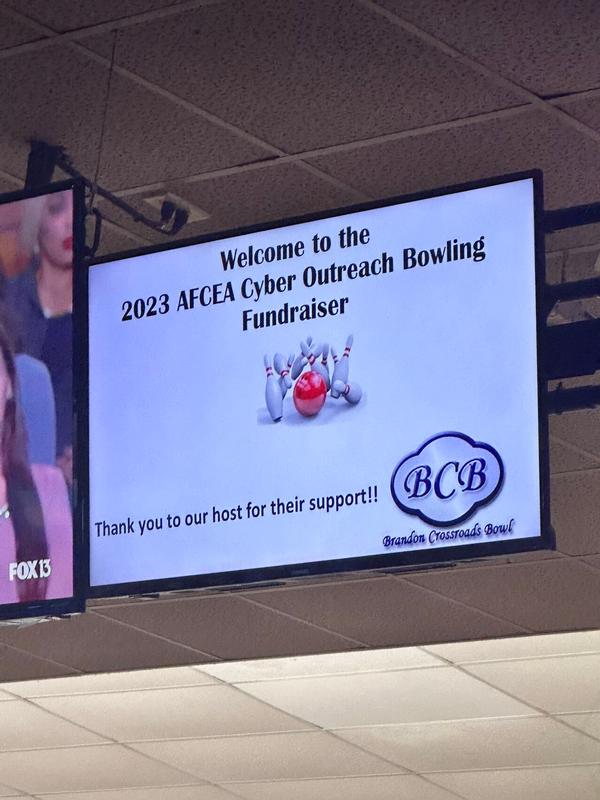 The chapter hosted its 6th Annual Bowling Tournament with 135 bowlers representing 27 different companies. The event raised close to $14,000 for the chapter's High School Cyber Outreach Program.
---
CENTRAL MARYLAND CHAPTER - 08/02/2023
One of the chapter's goals is to educate and inspire the next generation of technical professionals. The chapter started the Student Intern Presentation Showcase (SIPS) several years ago to do just that. SIPS is an opportunity for summer interns from sponsors in the chapter to practice their presentation skills and demonstrate their technical prowess. This showcase allowed interns to present their summer projects in front of a diverse audience.

The chapter held this year's event in July and had three companies sponsor 11 students to make four presentations. Students received professional presentation coaching from David Taylor, Lohfeld Consulting, in the weeks before the final presentation. Forty people were in the audience witnessing the presentations, including three judges from sponsor organizations: Joseph Karolchik, Nteligen; Maria Marinelli, Calibyr; and Ryan Hendrickson, Clarity Business Solutions.

All presentations were excellent. The judges had their work cut ... READ MORE
---