MONTGOMERY CHAPTER CHAPTER - Dec 12, 2012
Education Foundation Awards Chapter Initiative Grants
In December, the chapter's Education Foundation took great pride in the recent awards of Chapter Initiative Grants to local Macon County and Montgomery Public Schools districts. Macon County received $10,000 to fund future growth of information technology in the classroom via the purchase of Lego Robots for their representative schools. The addition of robots will significantly enhance pre-robotics engineering and programming studies within Macon County schools by expanding the program's scope from grades 6 to 12. Montgomery Public Schools received more than $20,000 to finance a new set of state-of-the-art iPads to bring the newest, interactive technology to students' fingertips. Science, technology, engineering and mathematics instructors and local Montgomery superintendents accepted the awards on behalf of Macon County and Montgomery Public Schools districts. The chapter's Education Foundation is thrilled to support the hard work of local schools and congratulates both the Chapter Initiative Grant recipients on their well-deserved awards.
Event Photographs:

In November, Dr. Melvin A. Lowe III, education coordinator for Macon County Schools, along with Jacqueline A. Brooks (2nd from r), Macon County superintendent, and Camille Floyd (r), instructor, accept a Chapter Initiative Grant for $10,000 from Charisse Stokes, director, chapter Education Foundation.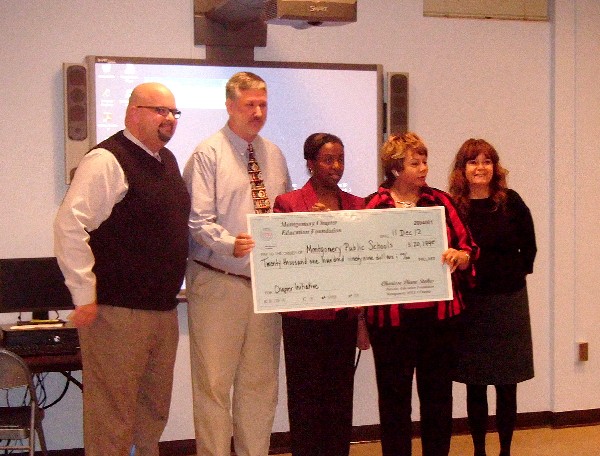 Accepting a $20,199 Chapter Initiative Grant from Stokes (c) in November are (l-r) Rod Sellers, Dunbar-Ramer School principal; Steve Blair, district technology instructor; Barbara Thompson, Montgomery Public Schools superintendent; and Debbie Webster, Goodwyn Middle School principal.

For more details regarding this event contact:
Tom Wojszynski
334-717-3709