MONTGOMERY CHAPTER CHAPTER - May 16, 2013
Turning a Hobby Into a Career
In May, the chapter's Young AFCEAN Advisory Council (YAAC) hosted a segment in the chapter's 2013 Business Over Breakfast series. The topic of discussion, "Turning Your Hobby Into a Career," drew a full house of various industry and military personnel eager to hear from the three panelist speakers: Bill Woodhouse, chief executive officer (CEO), eSolution Architects Incorporated; Steve Goldsby, CEO, Integrated Computer Solutions; and Josh Bush, CEO, Up and Running Incorporated.

Woodhouse kicked off the discussion by emphasizing the importance of passion when pursuing dreams to mold a hobby into a successful career, saying a person must consistently like the hobby over a period of time. Starting out in industry as a Web developer, Woodhouse spent years learning the ropes before branching out to start his own company. He mentioned it is crucial from the get go to be very disciplined financially to avoid going into debt, and it is also important to accept the added pressures that come with supporting not just your own family, but the families of employees whose future depends on the success of your business. Ultimately he has found the experience of being CEO can be highly rewarding from a professional, relationship and financial standpoint if one is willing to work the extra hours and embrace the responsibilities associated with the increased rolls that inevitably accompany a manager position.

Goldsby's desire to be more than just a cell in a spreadsheet combined with a dedication to support the Air Force mission led him to purse his dreams of being a CEO. Goldsby expounded on Woodhouse's comments regarding the benefits of being in a CEO position by mentioning the control over the direction of the company one has and the ability to support efforts you are passionate about. He shared three tips for startup business success: build positive visibility and trust with respect to customer relations so people will have confidence in doing future business with you; ensure you deliver a quality service; and add value to the customer. Additionally, he mentioned the critical importance of maintaining a policy of zero tolerance for integrity lapses, as daily integrity in all areas of work will make for a successful company.

Bush also shared his experiences, recalling how a former nickname, "The Fixer," and a reputation for quick repair turnaround times provided the inspiration for his current company's name, Up and Running Inc. Joining the work force at a time when careers in computer science were just beginning to catch on, Bush remained dedicated, saying, "If you're good at what you do, people will come to you." He emphasized the importance of broadening ones network sphere through organizations such as AFCEA, and told attendees, the best investment is a positive investment in you. Business Over Breakfast audience members enjoyed the presentation, and the YAACs thanked the panelists for making time to attend the event and share some valuable business insight with the River Region's young professionals.
Event Photographs: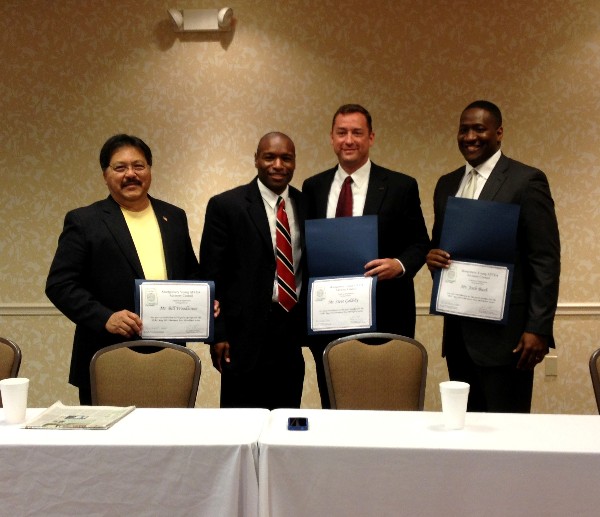 At the May meeting, Eric Sloan (2nd from l), president of the chapter's Young AFCEAN Advisory Council, presents certificates of appreciation to guest speakers Bill Woodhouse (l), chief executive officer (CEO), eSolution Architects, Incorporated; Steve Goldsby (2nd from r), CEO, Integrated Computer Solutions; and Josh Bush, CEO, Up and Running Incorporated.

Business Over Breakfast attendees network with Bush (c) after the presentation in May.

Sloan (l) networks with an attendee at the May Business Over Breakfast event.

For more details regarding this event contact:
Taylor Gardiner
334-314-6763