Chapter News

Slide show initialization failed.
ALAMO CHAPTER - 11/15/2017
Five members of the Air Force Enterprise Information Technology as-a-Service (EITaaS) Project Task Force (PROTAF) attracted a standing room-only crowd at the chapter's annual conference, Alamo ACE, in November. Col. Bill Waynick, USAF, the lead for this effort, spoke to a crowd of service members, industry representatives and government civilians about the Air Force's fast-moving EITaaS endeavor. The vision for EITaaS is to have industry provide the service and information technology as a commodity. Col. Waynick stated: "The Air Force needs to repurpose airmen from doing traditional IT to core cyber tasks and [being] engaged in mission defense teams." Additionally, the discussion covered how industry can do information technology better. The EITaaS effort is focused on identity and access management; enterprise and enclave protection; unified communications; application hosting; and enterprise service hosting. There are seven bases targeted for the pilot program across the globe. A ... READ MORE
---
CZECH CHAPTER - 11/13/2017
The first round of the Czech High School Cyber Security Competition completed successfully in November, and the official results are published at www.kybersoutez.cz. The competition is organized by AFCEA's Czech Cyber Security Working Group as well as several state, academic and professional organizations. More than 3,000 participants took part in the first round of the competition, which is in its second year. All the competition criteria were met by 2,053 students from 86 secondary schools. Going forward to the second round of competition are 1,852 representatives from all regions of the Czech Republic. South Moravia, Prague, Pilsen and Karlsbad will have the most students competing in the second round. Students from technology-oriented schools and from language, health and hotel-management schools attended the first round. Some schools sent individuals to compete, and others sent large groups of participants. The Secondary School of Informatics and Communications in Brno had the ... READ MORE
---
PORTUGAL CHAPTER - 11/07/2017
The chapter's Cybersecurity Committee collaborated with Portugal's Ministry of National Defense (MDN) to organize a November seminar on the implications of the General Data Protection Regulation (GDPR) in defense at the EDP Auditorium in Lisbon. Attendees represented the entire universe of defense, including all the core services of the MDN, the General Joint Staff and the three branches of the armed forces. The event consisted of two panels moderated by Rear Adm. António Gameiro Marques, National Security Authority, and Rear Adm. Mario do Carmo Durão, PRT N (Ret.), chapter president, respectively. It aimed to stimulate discussion among different defense leaders responsible for the new obligations that the GDPR establishes in May. The chapter intended to alert those responsible for the MDN and armed forces to the need to adapt the information and security structures to guarantee the protection of personal data and to report on the direct and intangible costs that might occur from se ... READ MORE
---
PALMETTO CHAPTER - 10/26/2017
There was a great turn out for the CEU class at the chapter's Lunch and Learn in October. Doug Burks, CEO, Security Onion Solutions LLC gave his lecture, "Peel Back the Layers of Your Network with Security Onion," in the Carolina Skies Club Daedalian Room on Shaw Air Force Base. The topic covered Security Onion, which is a Linux distribution for intrusion detection, network security monitoring and log management. It contains best of breed open source tools such as Snort, Suricata, Bro, OSSEC, Sguil, Squert, ELSA, NetworkMiner and many others. The easy-to-use setup wizard allows users to build an army of distributed sensors for their enterprise in minutes. In his one-hour talk, Burks showed the attendees how Security Onion could analyze network traffic and generate IDS alerts.
---
DAYTON-WRIGHT CHAPTER - 10/23/2017

In October, Galois Incorporated in collaboration with AFCEA, the Wright Brother's Institute and Treble One, held its second annual tech TED-like talks intended to foster collaboration in closing the gap on cyber vulnerabilities and unintended flaws in embedded systems software. The Discussions on Trustworthy Systems (DOTS) talks featured Dr. Suresh Jagannathan, former DARPA Program Manager, Purdue University, Reasoning About Weak Consistency and Isolation; Dr. Jim Paduano, Aurora Flight Sciences, Trusted Autonomy in the Cockpit;, and Mark Minges, Autonomy Integration Lead, AFRL/RY, AFRL Autonomy Initiative. Each year the Air Force Research Laboratory (AFRL) hosts the Safe and Secure Systems and Software Symposium (S5), bringing together academia, industry and government organizations to collaborate on a common goal of improving the airworthiness and assurance certification process of future aerospace flight control systems. The DOTS discussions are meant to serve as intermediary tou ... READ MORE
---
MONTGOMERY CHAPTER - 10/21/2017
In October, members of the chapter's Young AFCEANs (YACs) "Get Fit" program participated in the Nitty Gritty 5K. The team consisted of young professionals from the military, government and industry, who met up Saturday morning in Prattville, Alabama to run/walk for a good cause. The Nitty Gritty 5k was sponsored by the YMCA of Prattville, which focuses on youth development, healthy living and social responsibility. The YMCA also provides opportunities to give back and support its neighbors. The YACs are proud to support worthy causes and look forward to enjoying more fun and fitness at future "Get Fit" events.
---
DAYTON-WRIGHT CHAPTER - 10/20/2017

The chapter's October luncheon featured a Women in Cyber Panel. The panel fielded questions on the new cyber requirements and policies of new organizations like the cyber resiliency organization in Air Force Material Command, Wright Patterson Air Force Base. It featured longtime members and supporters Lorna Estep, Jackie Janning-Lask, Dr. Kristen Liggett and Teresa Moyer. Estep, a member of the Senior Executive Service, is the director of Resource Integration, Deputy Chief of Staff for Logistics, Engineering and Force Protection. She is responsible for planning, programming and budgeting of weapon systems sustainment, equipment, logistics and installation resource requirements. Dr. Liggett is a senior human factor engineer at Wright Patterson Air Force Base. Lask serves as the director of Engineering, Agile Combat Support Directorate, Wright Patterson Air Force Base. She provides the technical leadership and engineering guidance to deliver crosscutting capabilities. Moyer is an acqu ... READ MORE
---
BETHESDA CHAPTER - 10/19/2017
October's 10th annual Fiscal New Year Networking Event brought together more than 100 government and industry professionals to raise money for the Challenger Center. For 30 years, the Challenger Center has delivered science, technology, engineering and mathematics (STEM) education programs reaching more than 250,000 students annually through 43 Challenger Learning Centers. The chapter's Young AFCEANs have supported the Challenger Center since 2013. Simulated STEM missions at the center combine hands-on activities, role-play, simulation and group collaboration to achieve an inspirational goal, such as finding life on Mars. The chapter's Young AFCEANs have invested in a program to transform the powerful education in Challenger Learning Centers into a classroom-based program. The program will increase the reach of the Challenger Center by millions of students. The networking celebration was a popular event, with featured guests Jennifer Hoover of the Department of Homeland Security; Jo ... READ MORE
---
LOS ANGELES CHAPTER - 10/19/2017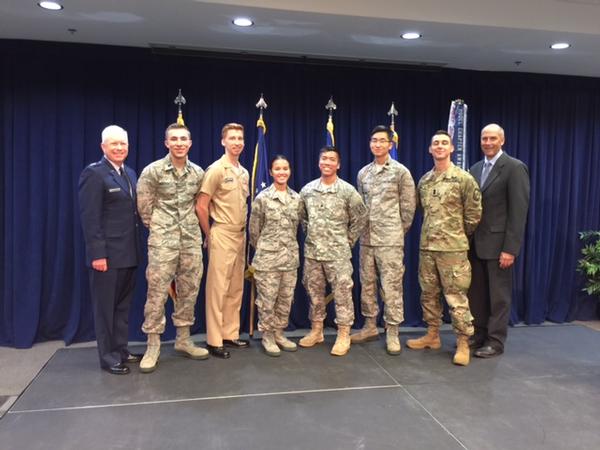 The chapter presented scholarship awards in October.
---
GREATER OMAHA CHAPTER - 10/18/2017
More than 300 information technology enthusiasts participated in the chapter's Heartland Tech Expo in October. The event featured vendor exhibits and mini-presentations for a day of activity. The chapter partnered with Federal Direct Access Expositions (FDAE) to put on the Tech Expo, explained Harold Haney, Tech Expo coordinator and the chapter's vice president of business development and marketing. "FDAE focused on the vendor exhibits, while the chapter set up several professional presentations that were available through the day. Overall, the Tech Expo was a great success, garnering much-needed funds to supplement our chapter's scholarship and grants program," Haney said. FBI Special Agent Jeremy Witmer delivered the keynote speech during lunch. Witmer, who has a background in technology and has worked on foreign cyber attacks and in counterterrorism and counterintelligence, now works on the local cyber task force team and partners with state and local police. Many cyber crimes ar ... READ MORE
---
ALAMO CHAPTER - 10/17/2017
The U.S. Air Force needs a training overhaul, said Brig. Gen. William Spangenthal, USAF, director of Plans, Programs, Requirements and Assessments, Headquarters Air Education and Training Command, Joint Base San Antonio-Randolph, Texas, during the chapter's October luncheon. A learning ecosystem that people want must be in place across the entire Defense Department, he stressed. "The systems we have are antiquated. It's been very challenging for many commanders to find personnel training across their teams," the general said. Spending more time on competencies and giving credit to airmen who already have certain skill sets when they come into the military is just not happening now, he said. "If I'm an airman and I want to get a refresher on something I learned a few years ago, I don't have anything to go back to. We have nothing like that. We need to sequence training and catalog it, so it can be referenced later," Gen. Spangenthal added. Creating an ecosystem based on industry stan ... READ MORE
---
SAN DIEGO CHAPTER - 10/17/2017
During the chapter's monthly luncheon in October, Chapter President Trevor Bender, on behalf of the AFCEA International Educational Foundation, presented a $3,000 science, technology, engineering and mathematics (STEM) Major Graduate Diversity Scholarship to Lauren Gillespie. Gillespie is a graduate student pursuing a degree in homeland security at the University of California San Diego. Gillespie expressed appreciation for the scholarship and for the opportunity to interact with others who have careers focused on security.
---
ALAMO CHAPTER - 10/14/2017

The chapter came out in force to support the annual San Antonio Boosting Engineering, Science and Technology (SABEST) competition in October. The event aims to get students interested in the fields of science and engineering. Karen Rolirad, vice president of scholarships and grants; Ron Moore, treasurer; Nate Titus, vice president of special projects; Juan Toves, vice president of programs; Szu-Moy Toves, vice president of publicity, and Charles Weissenborn, vice president of Young AFCEANs, volunteered to judge exhibits and conduct informal interviews as part of the competition scoring. The theme was based on emergency services tasks, such as rescue, fire and hazardous materials response. Teams could only compete using the robots they designed and built with the materials supplied by SABEST. On competition day, 700 students from 38 area middle and high schools competed with their remote-controlled robots in a high-tech, high-energy game called "Crossfire." The chapter awarded two $2 ... READ MORE
---
ALAMO CHAPTER - 10/13/2017

The chapter's Wounded Warrior and Military Families (W2MF) Endowment Fund supported the American GI Forum-National Veterans Outreach Program with a $5,000 grant to help purchase a new wheelchair-accessible van for program residents in October. W2MF Committee Chair Jeff Kendall, along with representatives from Wells Fargo and Kappa Sigma fraternity at the University of Texas at San Antonio, were on hand to unveil the van. "Veterans are now able to make their appointments with reliable transportation. It's something so simple that we take for granted," Kendall said.
---
MONTGOMERY CHAPTER - 10/12/2017
In October, the chapter's Young AFCEANs hosted a Business Over Breakfast seminar featuring guest speaker Teresa Macalolooy, CEO of Macalogic, at the Hilton Garden Inn in Montgomery, Alabama. Macalolooy discussed three things to consider if you want to start your own business. The first thing she talked about was knowing what you want to do. She emphasized that it is best if you can align what you know with what people want. The second thing you should do is plan. Macalolooy mentioned that she sets aside time every Sunday to plan her week. She said you should consider the largest issue you have and then consider every item linked to that all the way down the line. A good plan will help you envision the path to achieve your goals. Third, Macalolooy told the YAACs you need to ask. Ask people you respect what their thoughts are, what else might be useful. Then you need to be willing to let them help you, even when you don't think it will be helpful. Finally she reminded the audience to ... READ MORE
---
HAWAII CHAPTER - 10/10/2017
The chapter's featured speaker for October was Col. Joseph Delaney, USMC, commander of the Defense Information Systems Agency (DISA) Pacific Field Command (PAC). The colonel's presentation showed that he is passionate about the DISA PAC organization. He gave an overview of the services that DISA PAC provides to its many customers in the Pacific area. He emphasized that DISA PAC is an enterprise solution provider supporting the warfighter. Col. Delaney spoke about improvements and new services DISA is working on. He mentioned that DISA is testing Light Fidelity (Li-Fi) technology. Li-Fi is 100 times faster than Wi-Fi. Li-Fi uses household light-emitting diode (LED) bulbs to transfer data at speeds of 224 gigabits per second. It is more secure than Wi-Fi because light does not pass through walls. The chapter also recognized Tiari Kau as Young AFCEAN of the Month and Greg Rebugio as AFCEAN of the Month during the luncheon.
---
ALAMO CHAPTER - 10/10/2017
The chapter's annual Mentor Protégé Night at San Antonio's Topgolf in October brought representatives from the U.S. Army, Air Force, government and industry to attendees eager for knowledge. The event exposed Young AFCEANs to mentors from various career fields and supported the sharing of knowledge and lessons learned among all attendees. Guest speaker Jeff Reich, Information Systems Security Association (ISSA) Hall of Fame and distinguished fellow, spoke to the crowd about the importance of mentorship. He left the group with a challenge to "find someone who doesn't deserve a mentor, and mentor them." Charles Weissenborn, vice president of Young AFCEA, asked the group to keep an open mind about who mentors can be: "Mentors aren't just superiors. They can also be peers. Leaving here, don't make this a one-time meeting. Follow up with the mentors you met, and make a connection."
---