75th Anniversary

From Signal Flags to Satellites
.
AFCEA celebrates 75 years of building military & industry
partnerships that sustain defense and security worldwide.
Seventy-five years ago, in a meeting area in the Fraunces Tavern in New York, a group of respected military and corporate leaders gathered. Their purpose was to discuss a shared concern, one that was on the minds of many in the aftermath of World War II.

David Sarnoff demonstrates the RCA videotape machine. Sarnoff, who became president of RCA, was one of the founders of AFCEA and its first president.
Throughout the war, improved communications and electronics devices had emerged, enhancing military capabilities. These leaders recognized the challenge of not only continuing to advance the technology that had resulted from the war effort, but also of ensuring that military and industry organizations remained in a strong partnership, one that would lead to preparedness for the future.
The details of this meeting would have been communicated via landlines, typewritten reports or telegraph dispatches. Products and services such as smartphones, computers or the cloud were beyond the imagination of even the brightest in that room, such as Brig. Gen. David Sarnoff, USAR, who foresaw the combination of radar, televisions and electronics as revolutionizing warfare. While these leaders understood the power that communications technology offered, they could not have predicted how ubiquitous it would become, available to users as young as preschoolers or to enemies who no longer needed a physical command center.
In simplest terms, the goal of the meeting was not to predict the future but to secure it. The leaders were gathered as part of a new organization that would support global defense and security in ways that would transcend the decades. This organization would become the Armed Forces Communications and Electronics Association, better known as AFCEA, and it would empower those in military and industry to advance technology and ensure security by opening channels for collaboration.
In January of 1945, David Sarnoff receives his brigadier general's star from MGen. Harry C. Ingles, USA. A little more than a year later, these two would found AFCEA.
As the meeting proceeded, a letter from President Harry S. Truman set the tone, acknowledging the organization as one for fostering "industrial preparedness, which must buttress the future security of our country." Army Chief Signal Officer Maj. Gen. Harry C. Ingles addressed the attendees, and Sarnoff, who became AFCEA's first president, also spoke. Sarnoff led a distinguished broadcasting career that culminated in his service as chairman of the board of RCA. AFCEA's founding fathers also included Darryl F. Zanuck, who was a renowned 20th Century Fox movie producer and covered action in North Africa for the Signal Corps.
Today, the battle against real and growing threats to global security continues to evolve. AFCEA remains true to its founders, sustaining innovation in information and communications technology and providing a forum for collaboration that advances technology and ensures preparedness and strength. Since its inception, AFCEA has continued to grow better, faster and smarter with age, now with more than 138 chapters, an international headquarters in Fairfax, Virginia, and an office in Brussels, Belgium.
The members of AFCEA in 2016, just like those prominent figures of 1946, are the problem solvers and business builders who continue to move at the breakneck speed of technology. AFCEA's industry membership is drawn from 1,671 corporate members, representing the world's leading designers, planners, manufacturers and testers of systems and components. The association also has 28,627 individual members,.
AFCEA serves its members today as a nonprofit association, including government, industry, academia and all branches of the military in its community. It is unique among defense and security associations as it has both a domestic and an international office. The European office, which opened in 1982, helps manage AFCEA's global events and supports the association's close ties to NATO.
As it did in 1946, the association continues to establish affiliations and a congruence of professional interests that encourage broader participation and awareness. Members worldwide in the defense, homeland security and intelligence communities look to AFCEA to connect with essential people, discover powerful ideas and bring needed solutions to the market. And because the association does not lobby, it serves as a bridge between government and military in ways that some other associations and commercial entities cannot.
The first issue of SIGNAL Magazine, then called SIGNALS, was digitally reproduced in 2006 in celebration of AFCEA's 60th anniversary. This first publication of AFCEA, released two months after the organization formed, offers glimpses into the technology and lifestyle a year after the end of World War II.
The association's networking and educational opportunities are recognized and highly respected throughout the communications and electronics industry, which now includes cybersecurity and cyber defense as part of its disciplines. The headquarters office conducts more than 20 conferences, in person at locations near the customer and virtual, reducing expenses and travel for participants and attendees. Many of the chapters also hold events at the local level and also virtual. AFCEA's SIGNAL Magazine, which began publication in September 1946, is provided to members monthly in the format of their choice, and SIGNAL Online provides news and blogs relevant to AFCEA's areas of interests. The association's Educational Foundation, formed more than 37 years ago, provides more than $2 million in scholarships in relevant fields each year.

---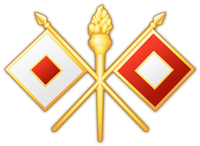 While the association officially began in 1946, the impetus for an organization like AFCEA began long before then. The roots extend back to the first communications service established in the armed forces prior to the U.S. Civil War. In the 1850s, Lt. Albert J. Myer, USA, an assistant surgeon assigned to the U.S. Cavalry, formulated the idea of sending visual signals from one group of soldiers to another, developing what then was called flag signaling, later known as wig-wag. After promotion to the rank of major, Myer convinced the general staff that this communications technique was vital to modern military efforts. In March 1863, Congress established a temporary U.S. Army Signal Corps.
By Word War II, the Signal Corps strength had grown to more than 50,000 members.
AFCEA's predecessor was the U.S. Veteran Signal Corps Association, formed by veterans of Maj. Myer's Signal Corps. A second association, the Army Signal Association, was formed in 1946 and incorporated the U.S. Veteran Signal Corps Association, the American Signal Corps Association and the Signal League. As the vision for the association developed, Gen. Ingles insisted that industry personnel be included as well.
When the services were unified in 1947, the association's name was changed to the Armed Forces Communication Association (AFCA) and finally to the Armed Forces Communications and Electronics Association (AFCEA) in 1954.
Since the founding of the association in 1946, the convergence of technology has blurred the distinction between communications, electronics and photography. This convergence has expanded the Signal Corps responsibility, with members who now are accountable for content, security and authenticity of messages as well as connectivity. It has enabled cyber warriors to use the Internet, the cloud, chat rooms and text messaging to coordinate, collaborate and plan. And it also has created a dependence on inexpensive and vulnerable communications products that challenge security efforts, introducing unknown risk and taking away privacy.
In this environment, where communications and electronics technologies continue to merge, often faster than the impact can be addressed, AFCEA is more relevant than ever before.
With age comes wisdom, strength and perspective.
AFCEA: Never more important than it is today and into tomorrow