AFCEA International Awards Program
Winners of the
presented at TechNet Cyber 2022
Winners of the
presented at WEST 2022
Through its annual awards program, AFCEA International recognizes the outstanding contributions of individuals in the communications, electronics, intelligence and information technology disciplines. In addition, AFCEA's chapters are recognized for outstanding support to the association.
To learn more about a specific award, including eligibility criteria, submission deadlines and past winners, click on the award name. AFCEA International staff members are not eligible to nominate a candidate or be nominated for any of these awards.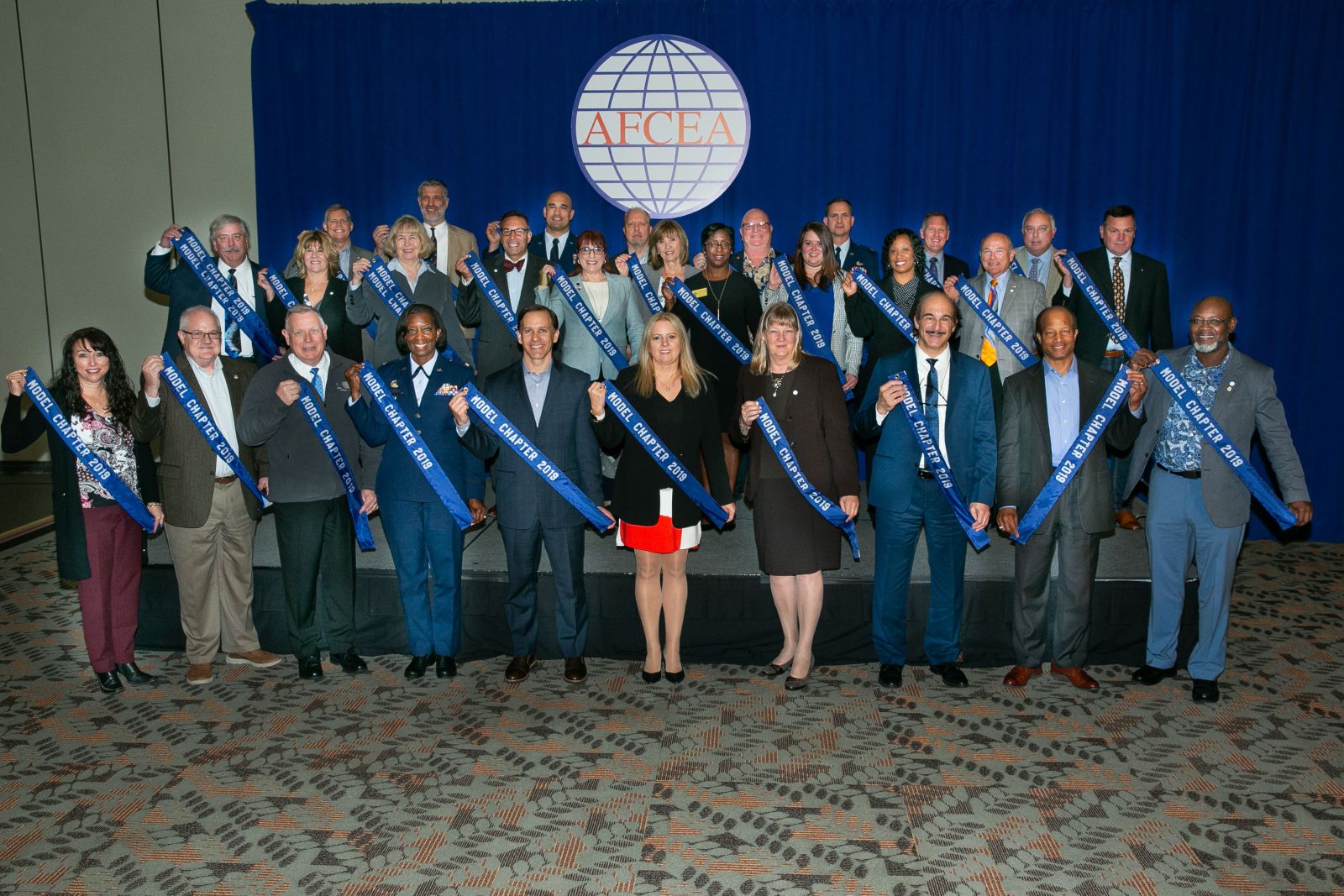 AFCEA INTERNATIONAL AWARDS
AFCEA's highest honor, this award recognizes individuals who have made lasting and significant contributions to global peace
Recognizes superior service to AFCEA over a sustained period of time
EMERGING LEADER AWARDS—INDIVIDUAL
The Young AFCEANs have rebranded as Emerging Leaders! As of end-June, 2021, future awards for our young professionals aged 40 and under will be referred to as Emerging Leader awards.
Recognizes and rewards demonstrating exceptional performance in leadership and guidance; exhibiting superior technical achievement; going above and beyond in the local AFCEA chapter or region level; and mentoring other Emerging Leaders
Given for exceptional service to AFCEA at the local and/or international level
Given to 40 individuals aged 40 or under to recognize their significant professional accomplishments and achievements.
EMERGING LEADER AWARDS—CHAPTERS
Given to the top chapter in each size category that have most significantly contributed to the professional development of Emerging Leaders.
Recognizes the programs of activities for Emerging Leaders at chapters and encourages chapters to create Emerging Leader programs.
WOMEN'S APPRECIATION AWARD
Recognizes and honors AFCEA members (female and male) who have gone above and beyond to further the careers of women
INDIVIDUAL AWARDS
The Admiral Jon L. Boyes Medal for Distinguished Service is AFCEA's premier award given for exceptional career service to AFCEA
The General James M. Rockwell AFCEAN of the Year is AFCEA's premier award for exemplary service to AFCEA during the past year
Awarded to a long-standing member of AFCEA with a record of sustained contributions to the association and exceptional leadership skills at a senior level
Acknowledges a sustained level of dedicated service to AFCEA, combined with professional excellence at a mid to senior level in the fields of communications, electronics, intelligence and information systems
Recognizes early- to mid-career professionals for meritorious contributions to AFCEA and the community as well as professional accomplishments
SMALL BUSINESS AWARDS
Awards one company for excellence in client service, training and innovation, community and professional outreach, leadership and commitment and diversity.
Recognizes an individual working in industry who has demonstrated excellence in client service, ethics, community and professional outreach, innovation and leadership.
Acknowledges an individual who works for the government who has demonstrated excellence in small business advocacy, leadership, community and professional outreach, innovation and ethics.
Awarded to the company that has demonstrated excellence in its mentor-protégé program; contract/sub-contract relationships; small business events and advocacy, ethics and diversity.
ENGINEERING AWARDS
Highest award for sustained career excellence in engineering.
Recognizes rising stars in the engineering field.
INFORMATION TECHNOLOGY AWARDS
Highest award for sustained career excellence in information technology.
Recognizes rising stars in the information technology field.
Recognizes those who have made significant contributions to furthering science, technology, engineering math education in grades K-12 or colleges and universities
Recognizes an individual, team, company or organization that has created an innovative and proven new technology product, service, process or solution
INTELLIGENCE AWARDS
Recognizes senior-level intelligence professionals who are making significant contributions
Honors intelligence professionals who are making significant contributions at the tactical, intermediate or national levels.
CHAPTER AWARDS
This award is presented to chapters that have most significantly contributed to the goals of AFCEA. Chapters compete with other chapters of the same size, and the AFCEA International Awards Committee selects the winning chapters
Aims at strengthening the overall chapter structure and program of activities by recognizing chapters that meet a rigorous set of standards
Recognizes chapters that excel in membership recruiting and retention
Awarded to the chapter that has most significantly contributed to the inclusion, contribution, leadership and professional development of under-represented AFCEANs, such as women, enlisted personnel, young people and other minorities, by providing a forum of programs and initiatives geared to their unique needs.
EDUCATIONAL FOUNDATION AWARDS
Recognizes the chapter that has provided significant support to the AFCEA Educational Foundation
Recognizes an AFCEA chapter supporting its local community with scholarships and K-12 STEM programs
ROTC HONOR CERTIFICATE FOUNDATION AWARD PROGRAM
Recognizes ROTC cadet and midshipman achievement in leadership and academics. AFCEA Awards for Military Institutions: Acknowledges 150 awards for academic excellence in more than 30 educational institutions and training commands of the uniformed services each year
THE CYBER EDGE/SIGNAL MEDIA WRITING AWARD
The Cyber Edge Writing Contest
This writing competition focuses on the Digital Frontier. Writers can explore ongoing or potential cyber hazards and threats as well as possible solutions to address the challenges. Judges choose three winners for monetary prizes. Writers must have submitted their articles between October and February.
The AFCEA Saint Isidore Award/Medal recognizes individuals who demonstrate exceptional initiative, leadership, insight, and cyber excellence within their area of expertise. The award consists of three levels: gold, silver and bronze.
AFCEA AND U.S. NAVAL INSTITUTE AWARDS
AFCEA International and the U.S. Naval Institute recognizes individuals each year who are selected based on their sustained superior performance in a C4I/IT-related job
AFCEA International and the U.S. Naval Institute announces the recognition of those individuals designated by their commands as Enlisted Superior Performers (ESPs)
Contact us for more information about the AFCEA International awards program.