IMPRES Technology Solutions
Member Since: 2010
810 Hesters Crossing
Suite 100
Round Rock TX 78681
Telephone:
Email:
Chief Executive Officer:
Richard Fu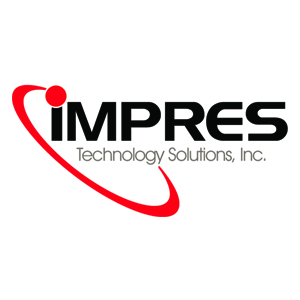 Providing mission critical IT solutions & support
Vice President - Federal:
Steve Ridgeway
Chief Marketing Officer:
Jennifer Bocchino
Business Focus:
IMPRES knows the Federal marketplace. As a leading IT solutions provider, IMPRES Technology Solutions, Inc., combines decades of technological expertise with a thorough understanding of the federal procurement and contracting process to implement the best possible IT solution for your agency while reducing risk and lowering costs.
Products/Services:
IT product/services with a specialty in Cyber Security & IT Modernization
Clients:
Federal DOED & Civilian Agencies
Access to Contract Vehicles:
GSA IT Schedule 70, NIH CIO-CS, NETCENTS II, DHS FirstSource II (SB & 8a),FAA-eFAST III; Corona BPA; JMAS; Seaport-e; USPTO; SeaPort-NxG, 2GIT,
Certifications:
ISO 9001:2008, HUBZone, 8(a), SDB, Minority Owned, Small Business,
Veteran Hiring:
IMPRES Technology Solutions, Inc. is an Affirmative Action and Equal Opportunity Employer. All qualified applicants including distinguished veterans will receive consideration for employment without regard to race, color, religion, sex, sexual orientation, gender identity, national origin, or protected veteran status and will not be discriminated against on the basis of disability. We are mission driven and employ many veterans to drive our business. If you're returning to civilian life and looking to start your new career, we have opportunities that fit exceptionally well with the skills and experience you've acquired in the military. And if you're a veteran who has gained civilian work experience or earned university degrees since your time on active duty, we would like to talk to you.
Learn more ...