Events

Upcoming Events
Alphabetical listing: View as List
Full Calendar, Including Chapter Events: View Full Calendar
Exhibits, Sponsorships, Program Information: Contact Events Team
Defensive Cyber Operations Symposium
06/13/2017 - 06/15/2017
Baltimore Convention Center, Baltimore, MD

DCOS will focus primarily on the Defense Information Systems Agency and the Joint Force Headquarters-Department of Defense Information Network in their operational role as both the defender and creator of adaptive and resilient networks. Participants will include USCYBERCOM, the DOD CIO office, combatant commands, DOD agencies, coalition partners, industry, academia and the military services.

Continuing Education at this Event
Navy Information Warfare Industry Day
06/15/2017 - 06/15/2017
Heritage Conference Center, Chantilly, VA

Navy Information Warfare Industry Day provides business intelligence in the context of the Navy Strategy for Achieving Information Dominance. This classified (Secret/NOFORN) event stresses the public/private partnership and identifies areas where industry can support the Navy Information Warfare Community and its mission. AFCEA Intelligence, the Naval Intelligence Professionals and the Office of the Deputy Chief of Naval Operations for Information Warfare sponsor this event.
AFCEA 2nd European GeoInformation Symposium & Exhibition
06/20/2017 - 06/22/2017
Berlin, Germany

How can the huge and constantly growing amount of related data and datasets be handled efficiently, effectively and simultaneously to guide decisions for future missions? Symposium attendees will explore this topic in depth and see potential technical solutions to answering this vital question.
Army Intelligence Industry Day
06/29/2017 - 06/29/2017
Heritage Conference Center, Chantilly, VA

U.S. Army Intelligence is evolving to be more adaptive and agile to provide asymmetric support to this regionally aligned, globally engaged service. This classified (Secret/NOFORN) event focuses on opportunities for the private sector and the importance Army Intelligence places on its relationship with industry. The event is co-sponsored by AFCEA Intelligence and the Office of the Deputy Chief of Staff for Intelligence, Headquarters, U.S. Army.
Classified Cyber Forum
07/13/2017 - 07/13/2017
Heritage Conference Center, Chantilly, VA

"Cyber threat intelligence" has different meanings to different organizations and intersects with other activities and disciplines. Increasing levels of malicious cyber activity complicate the ability to detect and prevent activity. This classified (Secret/NOFOR) forum will focus on how this changing threat affects intelligence, homeland security and cybersecurity from a technology, policy and substantive/information perspective. Sessions will focus on finding and expelling the adversary, commercial capabilities and the economic security implications of global commerce on the Internet.
TechNet Augusta
08/08/2017 - 08/10/2017
Augusta Marriott at the Convention Center, Augusta, GA

TechNet Augusta provides a forum for key military professionals from the U.S. Defense Department, armed services and U.S. Coast Guard to discuss issues and share ideas. Government, industry and academic speakers address a range of topics and focus on the importance of the network, security issues and training to enable operational forces to modernize and be ready to meet emerging challenges in 2025 and beyond.

Continuing Education at this Event
Intel & National Security Summit
09/06/2017 - 09/07/2017
Washington, DC

AFCEA Intelligence and the Intelligence and National Security Alliance (INSA) are hosting the fourth Intelligence & National Security Summit. The summit features leaders from both the public and private sectors who will discuss the needs of the U.S. Intelligence Community.
Homeland Security Conference
09/12/2017 - 09/13/2017
Walter E. Washington Convention Center, Washington, DC

Securing the homeland demands coordinated and end-to-end collaboration. Through panel discussions, keynote speakers and networking opportunities, the Homeland Security Conference provides a diverse cross section of professionals--from subject matter experts to frontline responders--with the opportunity to meet face to face and explore new technologies. The Homeland Security and FedID events will share an exhibit hall but will operate separately.
Federal Identity Forum & Exposition
09/12/2017 - 09/14/2017
Walter E. Washington Convention Center, Washington, DC

The Federal Identity Forum & Exposition (formerly Global Identity Summit) will be co-located with AFCEA's Homeland Security Conference this year. FedID is the federal government's primary outreach and collaboration-building event with the worldwide identity community. It is designed to promote a comprehensive understanding of the current capabilities, needs and trends in the federal government and broader identity community and to initiate and advance collaboration among identity stakeholders. FedID and Homeland Security will share an exhibit hall but will operate as separate events.
NRO Industry Day
09/28/2017 - 09/28/2017
National Reconnaissance Office, Chantilly, VA

Partnering and information sharing are essential for keeping our nation ahead of today's complex security threats. To facilitate government-industry innovation, AFCEA Intelligence and the National Reconnaissance Office (NRO) are sponsoring a full-day classified (Secret/NOFORN) event dedicated to identifying areas of possible collaboration and business opportunities to help enable and accelerate NRO's strategic vision.
TechNet Europe 2017
10/09/2017 - 10/11/2017
Stockholm, Sweden

The TechNet Europe conference fosters networking opportunities and a highly regarded industry and technology exhibition. Experts will explore "Cyber Capabilities in Hybrid Warfare Scenarios."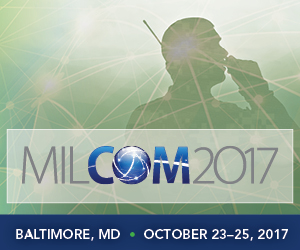 MILCOM
10/23/2017 - 10/25/2017
Baltimore Convention Center, Baltimore, MD

Be part of the evolving conversation surrounding military communications. In the MILCOM tradition, experts in C4I and cyber issues will lead an outstanding series of unclassified and restricted technical presentations, tutorials and panel discussions. MILCOM also features industry exhibits all under one roof. Join members of government organizations, the military services and the service research labs. Continuing education credits available.
TechNet Asia-Pacific 2017
10/31/2017 - 11/02/2017
Hilton Hawaiian Village, Honolulu, HI

TechNet Asia-Pacific is co-sponsored by AFCEA International and AFCEA Hawaii. It is the largest event in the Pacific Rim focusing on regional defense issues. Keynote speakers, panel moderators and panelists will discuss defense policies and challenges in the Asia-Pacific region and their relevance to both industry and government. Industry exhibitors will demonstrate products and solutions to meet the military services' requirements and needs.
WEST Conference and Exhibition
02/06/2018 - 02/08/2018
San Diego Convention Center, CA

WEST is the foremost event in which the makers of platforms and the designers of technologies can discuss and demonstrate solutions in a single locale. The event enables senior military and government officials to gain feedback directly from sea service warfighters. Industry leaders can learn about military requirements and connect with decision makers as well as operators during the event. Continuing education credits are available.
NGA Industry Day
03/01/2018 - 03/01/2018
NGA Campus East, Springfield, VA

The NGA Industry Day is a collaborative annual effort that owes its enduring appeal to its hard-hitting focus and sustained leadership engagement. AFCEA and the National Geospatial-Intelligence Agency (NGA) present NGA senior leaders who will speak with current and future industry partners directly at the SECRET level about NGA's goals, initiatives, challenges and business opportunities. The event offers a straight-from-the-top information exchange to enable industry to better:Understand NGA s needs, challenges and implementation plansIdentify partnering opportunitiesAlign R&D and IRAD investments with agency prioritiesAnticipate business opportunities to include future Requests for Proposal (RFP) and Requests for Information (RFI)
Air Force ISR Industry Day
03/22/2018 - 03/22/2018
Heritage Conference Center, Chantilly, VA

The U.S. Air Force is committed to developing a broader relationship with industry to improve understanding of requirements and enhance competition. Attendees at this classified (Secret/NOFORN) event will gain a greater understanding of the Air Force ISR vision and direction. This event is co-sponsored by AFCEA Intelligence and the Office of the Deputy Chief of Staff for Intelligence, Surveillance and Reconnaissance, Headquarters, U.S. Air Force.
View Full Calendar, Including Chapter Events ...
View Past Events ...