Information Services Inch Closer to the Edge
About the Author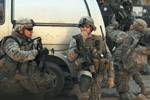 Soldiers radio in their location and enemy contact results during a search for a sniper in Sadr City, Baghdad, Iraq. Because the Defense Information Systems Agency (DISA) is delivering more services to the tactical edge, the agency must consider the distinct requirements of warfighters in the field.

Agency seeks to create balance between agility and oversight.
Leaps in technology innovation and changes in the business enterprise climate are transforming the military's view of its primary information systems provider. Network stability, computing advances, increased financial transparency, enhanced governance and the compelling need to modernize systems are key instigators in this new perception—and exciting opportunities are likely to keep it going. But because supplying warfighters with bleeding-edge technologies quickly, flexibly and robustly can be an elusive goal, work continues in earnest to remain one step ahead of the next requirement.
John J. Garing, chief information officer and director for strategic planning, Defense Information Systems Agency (DISA), says the improved relationship between the agency and its customers is the result of the continual progress DISA has made in many areas. "The innovations in the computing world, like capacity on demand and being able to provide Web service in a few minutes from across the country and paying for it with what amounts to a credit card, is pretty fascinating when you think about the fact that this is the U.S. Defense Department," Garing says. However, despite the urgency for bigger and better capabilities, DISA must continue to strive for the right balance between oversight and speed, he adds.
Progress has occurred in several fields. For example, the Global Information Grid–Bandwidth Expansion initiative, which began three years ago, resulted in a very stable network. The agency's two-year pursuit of a clean audit opinion is producing fruit, pinpointing acquisition and invoicing costs and processes.
Enhancing the focus in the financial sector is one benefit of improved governance in the network area. While governance in the computing area has been solid for some time, Garing admits commensurate oversight has not existed in the network area. This is changing, and he emphasizes that he does not believe that the control is overwhelming.
Another influence on customers' views about DISA has been operations Enduring Freedom and Iraqi Freedom. The toll the wars are taking on equipment is compelling all of the armed forces to modernize and refit. They are making decisions concerning information technology services purchases so they can delegate some of their work when appropriate. One example of this is data processing, he shares.
Another change in how DISA operates is that the agency is "being drawn closer to the tactical edge." In the past, DISA would "drop off" services at the point of presence on a military installation; from that point, the individual service extended the services to the edge. Now, however, the services are being delivered directly to the pointy end of the spear. As a result, the agency must bear in mind additional requirements when developing services. "We have to consider what the very thin line at the edge needs. Whether it's the small-deck ship or a maneuver battalion, whatever it is, we have to consider what they're using, what they need to do," Garing explains.
For example, if the customers need to consume overhead imagery as a service on the network while in the field, they must be able to operate when they are disconnected from the network and then synchronize with the network when they return. DISA must consider the details that make this possible whenever they put a service on the network, he relates.
This is not the way DISA operated in the past, Garing notes. The agency worked under the premise that a universal standard or set of metrics could be applied to users whether they were operating out of DISA headquarters, the Pentagon or a tactical operations center in Iraq. "We recognize now that the tactical edge is different, so we have to consider what the edge needs as we build the services and move them toward the center of the enterprise. They can get richer for those with more bandwidth, but we must always consider what it is that the warfighter needs at the edge," he states.
E-mail is one example of a service the agency will provide in the Defense Department enterprise, and the agency must closely evaluate the details when this service is taken to the tactical edge. When a ship or an Army unit cannot connect to the network, it still must have internal e-mail. "And when they are connected, we have to be sensitive to the narrow bandwidth available to most edge users," Garing explains. However, when the ship or unit reconnects to the network, it must be able to communicate with other entities such as its headquarters without missing       a beat.
Regarding enterprise e-mail, Garing says, "We're just going to do it. DISA's been given the opportunity to lead that. We've stepped up to the plate to do it. Talk about service to the edge. Two years ago, we never would've touched that."
This same connectivity also must be available for other activities, including collaboration, he shares. Warfighters must be able to collaborate while they are disconnected or in a disadvantaged position and then synchronize to collaborate with the entire unit when they reconnect.
"I've been told by friends of mine—some in the government, some out of the government—that this is DISA's moment, because we're all about services in the enterprise and being able to access them and consume them globally. That presumes a stable network; it presumes agile computing; and it presumes this idea of a platform upon which a computing cloud can be built. And that's something that we just have to stand up to," Garing states.
Customer demand for these types of services is one reason DISA is gearing up, Garing says. Using industry as an example, he points out that many companies now turn to Web services such as Salesforce.com because they are a more cost-effective way to handle back-end work. "We want to be able to do that. Now, we're not going to be able to offer services in the cloud like small business services for a while. But if you think about it, that's the direction that the world has gone, and we need to be right alongside of it," he states.
In addition to providing services rapidly and remaining agile, as chief information officer Garing has a number of other priorities. He believes cyberdefense is a crucial focus area. The agency must ensure that the network, including computing, is available and protected no matter the threat, he says.
"Second, and I'm not sure whether this is more or less important, is information sharing at all levels, among the services and agencies, with our coalition partners, and with our national partners for disaster relief and first responders," Garing relates. Information-sharing services must both facilitate sharing and protect the information, he adds.
Capt. Marian Collins, USAF, logistics officer, 615th Contingency Response Wing, Travis Air Force Base, California, coordinates operations taking place at the Louis Armstrong International Airport command center in New Orleans. The operations supported the evacuation of New Orleans civilians prior to Hurricane Gustav. In addition to ensuring that new services meet military operational requirements, DISA must keep in mind that the systems also may be called upon to assist in humanitarian relief.

Garing's third priority is developing the ability to set up the network and compose services where and when they are required based on U.S. warfighting strategies rather than on adversarial influence. DISA must be able to do this with information assurance in mind, he notes.
"Fourth, we've got to acquire services and capabilities and deploy them much faster than we are today. If you ask most DISA seniors, they'll tell you that the [Department of Defense] DOD 5000 Series regulations that govern acquisition are OK and can support speed and agility. But we have to pay attention to speed and agility to make sure that the processes surrounding the regulations don't impede us unnecessarily," Garing says.
John Young, under secretary of defense for acquisition, technology and logistics, approved a major revision to the Defense Department Acquisition System, called DOD Instruction 5000.02, in December 2008. One key principle is the use of acquisition program categories. Under the new instruction, more costly programs are subject to more stringent oversight.
"There has to be oversight and governance commensurate with the risk that's being encountered. If you have a very intensive software development program that's a higher risk, then you bet. If you're buying a collaboration service that's commercial, it's not nearly as complex and therefore not nearly as risky and needs less oversight and governance," Garing said. A balance must be struck between instilling oversight and getting capabilities to warfighters more expeditiously, with a slight tilt toward the latter, he adds.
Garing sees capabilities in the commercial sector that intrigue him, and he would like to create a military equivalent, if possible. For example, social networking Web sites such as MySpace and YouTube are interesting, so he would like to explore the concept of something similar for the military.
The tracking systems, including the Delivery Information Acquisition Device (DIAD), that commercial shippers such as United Parcel Service employ also appeal to Garing. The ability to track boxes 24 hours a day, seven days a week using a system that has a 14-hour battery life could be explored as a beneficial capability to the military, but not only with boxes. "Wouldn't it be nice to have something like that in the hands of every soldier, Marine or whoever?" Garing ponders.
Cynics point out that such a system would require a cellular network and security, to which Garing replies that cell repeaters could be installed on unmanned aerial vehicles, for example, to provide coverage. And, a DISA-provided service encompassing security or protection could be left up to the operational commander who understands the sensitivity of the information.
"But the point is the DIAD, that box, is already developed and operating. Wouldn't it be nice to be able to take something like that inside the firewall and use it? The power that's out there is incredible. We just need to be able to connect the dots and take advantage of that," Garing states.
One way to connect these dots is by turning to innovators in industry, he maintains. Garing is referring to the capabilities—in technology and innovative thought—he observes in Silicon Valley companies. Discussing challenges with experts at these start-up firms during trips that DISA personnel take to the West Coast reveals how to connect the dots with the systems the agency already offers, as well as how to explore new concepts to benefit the warfighter.
"If I were 'King for a Day,' and I had a tough problem to solve, rather than write a spec[ification] and issuing a request for information, I would get five or six of these young people that live in the [Silicon] Valley who are innovators at heart and are entrepreneurs at heart and say, 'I'm trying to solve this problem. What you think?' Let them come back with a solution or two or three. We can reject all of them, but they know how to connect dots," Garing says.
Although Garing is not likely to be "King for a Day" any time soon, as DISA's chief information officer, he significantly affects what the agency does today as well as some of the organization's future focus areas. "We've got to continue to strike the balance between running an efficient DOD business and enabling the warfighter to do his or her job. Sometimes, the pendulum swings in either direction too far; we can't always just go to the most efficient solution. However, everything we do for the warfighter has to be well founded in business sense and common sense as well. We have to continue to work that balance and not get one disproportionately ahead of the other without careful consideration," he states.
The need for balance also exists in the information-sharing area. Garing admits that the persistent churn between staunch information ownership and an approach that recognizes ownership but encourages information sharing is a constant challenge. His solution would be to put reliable and discoverable information on the network so it can be consumed by whoever needs it as long as the person has the appropriate credentials and permissions.
Information systems in the military also must move toward mirroring the commercial world, Garing contends. "At home, I don't care what happens on the other side of the glass on my screen. I don't care who provides the pipes, who provides the service or where they are; in fact, I don't want to know where they are. All I want to know is that (a) they are going to protect my credit card information, and (b) I'm going to get what I want in a relatively short amount of time.
"But when I come to work, all of a sudden all of these service issues become important to me. Who owns the data? Who owns the machines? Who owns the network? And I don't understand it. I've heard some of our customers say they have to build the systems so they can operate. No you don't. What you need to do is preserve unto yourself those things that you can't let go of, but everything that you can make available, you do. That's the market pressure that I'm sensing," Garing states.
The push toward sharing information more often and more easily leads Garing right to the idea of cloud computing. Being a cloud provider—and DISA appears to be the logical choice for that—involves a great deal of responsibility and accountability to ensure solutions feature information protection and controllable access, he says.
"That's the way of the future. I ought to be able to do what I need to do for work in the Department of Defense as a civil servant or as a uniformed member of the service as easily as I can do it at home … . Those things that need to be protected, that should be protected, will be protected. But everything else should be on the network that knows who I am and what I'm allowed to do and just lets me do that. I believe very strongly in computing as a service on the network as well. Not pipes and processes and wires and disk arrays; it's a service that is transparent to the user," Garing states.
The move to computing as a service likely will take three to five years, he predicts, but it will occur. In fact, Garing shares that a speaker at DISA's Customer Conference in May 2008 stated, "Woe betide the CIO of the first millennial general, because the millennial generals and all young people have an unquenchable thirst and appetite to share and collaborate." Information technology specialists will not be able to stand the heat when these younger people move up in rank, become the decision makers and tell information technology departments what they expect the network to do for them, he adds. "As the people who have been around for a long time begin to move on, and the newer blood comes in, this culture of sharing and collaboration on demand is going to take over. Maybe it will be in 10 or 12 years, but I think it's closer to three or five," he states.
Web Resources
Defense Information Systems Agency: www.disa.mil
Rapid Access Computer Environment: www.disa.mil/race
Cloud Computing Offers Options

The Defense Information Systems Agency (DISA), currently located in Arlington, Virginia, but scheduled to relocate to Fort Meade, Maryland, beginning late next year, introduced a service called the Rapid Access Computing Environment (RACE) last October. Based on cloud computing, RACE enables customers to "purchase" the platform they need for developmental testing. Rather than creating their own platform, which can be costly and time-consuming, the environment enables users to buy the month-to-month service, including capacity on demand and around-the-clock service desk support.

John J. Garing, chief information officer and director for strategic planning, DISA, relates his observation of the power of RACE. "Three months ago, I actually saw somebody in Falls Church [Virginia] get on our network and provision a Web site in St. Louis in seven minutes, then pay for it with what's tantamount to a credit card. That's pretty impressive," he says. Five years ago, this same activity would have taken months, he adds.

"The demand for agility in what we provide is growing. This business of provisioning Web services, Web sites, standing up extra capacity because of a sudden demand is a very attractive option to customers in areas such as test and development," Garing states.

The agency also offers another capability called Forge.mil. "Forge works on top of the RACE platform. It's a set of open-source test and development tools and services that you can invoke remotely without having to buy them yourself. It's test and development within one of our data centers, so you don't have to build your own laboratory or your own test jigs if you don't want to. Think about the power of that," Garing states.