Information Sharing Flies High
About the Author
Surveillance Target Attack Radar System (Joint STARS) aircraft before the beyond-line-of-sight (BLOS) communications capability was installed and after is minute but mighty. The small orb located on top of the airplane's tail is one piece of the new Joint STARS BLOS capability, which creates a secure airborne network.

Joint warfighters soaring in the E-8C aircraft enjoy comprehensive computer systems support.
An innovative communication capability born from an urgent operational need is generating a cascading effect on many sectors of the U.S. Air Force. This technology provides beyond-line-of-sight secret Internet protocol router network, text messaging and telephone access eight times faster than the legacy capability it replaces. It is changing the way the service's 116th Computer Systems Squadron does business—including direct interaction with the aircraft.
Developed and fielded on all 18 E-8C Joint Surveillance Target Attack Radar System (Joint STARS) aircraft within approximately two years after the idea's conception, the beyond-line-of-sight (BLOS) communication capability quickly has become nearly indispensable in missions. While commanders will not yet commit to calling it mission-critical, the capability rapidly is making its way to achieving that status. Already, the 116th Computer Systems Squadron (CSS) at Robins Air Force Base (AFB), Georgia, is ensuring that the aircraft's newest communication services remain reliable and secure.
Although Joint STARS aircraft already were equipped with the Joint Capability for Airborne Network (JCAN), the network's requirement for direct line of sight to only a few groundstations limited information sharing. To overcome this limitation, Lt. Gen. Gary North, USAF, commander, Air Forces Central Command, called for the BLOS capability in February 2007 under an urgent operational need (UON) request; he asked for it to be added to the Joint STARS fleet in the command's area of responsibility.
To fulfill this need, members of the Air Force's 751st Electronic Systems Group at Hanscom AFB, Massachusetts; the 116th Air Control Wing at Robins; and Northrop Grumman Corporation, the Joint STARS prime contractor, immediately began work. By February 2008, the first two aircraft were equipped with the BLOS capability, and in January 2009, installation of a BLOS ground-entry station in Virginia marked the end of the project.
Capt. Kate Stowe, USAF, BLOS program manager, is proud of how the team stepped up to meet Gen. North's UON request. "In a time when delivering programs on cost and on schedule can be challenging, BLOS is a success in both respects, coming in early and on cost while also meeting an urgent warfighter need," she says.
The BLOS capability is remarkable in a number of ways. In addition to eliminating the line-of-sight requirement, it delivers information at a rate of up to 256 kilobits per second, eight times faster than JCAN's data rate of 32 kilobits per second. Also, the capability directly connects Joint STARS aircraft to the U.S. Defense Department's Global Information Grid through International Maritime Satellite Organization, or INMARSAT, satellites. Data is sent through the satellites to the common groundstations, then through the public switched telephone network and integrated services digital network, where it is sent to the secret Internet protocol router network (SIPRNET) Entry Sites and disseminated anywhere in the world.
Information can be shared from the Joint STARS aircraft with any Defense Department organization using SIPRNET mail, text messaging and secure telephone from any location. As a result, agencies' personnel have access to real-time ground targeting intelligence data.
The benefits of the BLOS tools extend beyond the ability to communicate over long distances; they have changed the way the Joint STARS aircrew members conduct operations, Capt. Stowe says. For example, imagery of a potential threat can be put into a search engine, embedded in an e-mail to share or inserted into a chat session to permit ground troops to confirm the threat level.
"BLOS has enabled them to do all of that in real time and has given the warfighter more heightened situational awareness. Before, they had one piece of intelligence; now, they can layer on other intelligence, which gives them much greater fidelity. It is this greater fidelity that has fundamentally changed the nature of how we're currently fighting the jet in theater," Capt. Stowe explains.
The numbers tell the story. By the time the project was officially completed in early February 2009, the faster flow of data led to the location of 400 improvised explosive devices (IEDs) as well as 150 weapons caches and safe houses in operation Iraqi Freedom alone. Even as it was being installed on aircraft upon aircraft and the groundstations were being readied, more than 150 combat sorties had been flown for a total of more than 400,000 minutes of operations by early this year. Including flights conducted for combat, continental United States (CONUS) and exercises, BLOS had been a part of more than 620 sorties between March 2008 and February 2009.
In addition to the Joint STARS flight crew, all of this activity has had corollary effects on the 116th CSS at Robins AFB. New responsibilities for the Air Force's communications teams had already begun; Capt. Phillip N. Alvarez, USAF, mission systems flight commander, 116th CSS, and his team are feeling the impact of BLOS just as substantially. "From a communications perspective, this capability has changed the way this communications unit does business," Capt. Alvarez states.
"We have a specific set of equipment that we're going to use to configure the hard drives and to help configure the equipment; we developed an MOA [memorandum of agreement] so we can help the maintainers configure the equipment that's on the aircraft; we track all the BLOS airtime; we may eventually host a SIPRNET Entry Site; and then we also do all the information assurance to the fleet as well," he explains.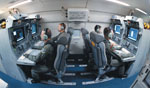 The Joint STARS' aircrew is truly joint, with members from each of the services and the National Guard staffing computer systems inside the plane.

The squadron now can deliver software to the Joint STARS fleet in the same way software is often delivered in companies: directly from the information technology department. In this case, the 116th CSS can deliver it to the aircraft without dispatching teams of professionals to each plane.
This also will be the process for updating security tools, the captain shares. Because this equipment makes the aircraft part of the network, it creates the need to abide by time compliance network orders. "Just like you would need to reboot your desktop at work because you have to get all of your antivirus software updated, we're going to do the same thing for the fleet now. So, now we picked up that process as well," Capt. Alvarez says.
In addition, the squadron is receiving six new suites of equipment so it can support CONUS, forward operating and exercise locations. "The unique thing about that is that it's using VPNs [virtual private networks], a replicator, a server and switches—stuff that communications guys normally use—on aircraft. What we're basically becoming is an airborne network," Capt. Alvarez explains.
During a transitional stage, the communications squadron also has stepped up to help aircraft maintainers, because the quick turnaround of installing BLOS equipment on Joint STARS aircraft left them little time to be fully trained. The 116th CSS developed and signed an MOA with the Air Force's Aircraft Maintenance Squadron (AMXS); the agreement enables the 116th team to help maintainers configure routers, accelerators, firewalls, servers and switches when they need assistance. The AMXS currently is developing training classes in this area; once the maintainers are adequately trained, the agreement no longer will be necessary. "This is us leaning forward to say, 'We can help them do this now,'" the captain relates.
Another responsibility the 116th CSS has taken on is tracking the Joint STARS' aircraft fleet telephone bills. It oversees all the air-network and .mil usage, a budget of more than $15 million annually.
"And the last piece of this puzzle—and how it all comes together—is there's an overview of this whole BLOS system. All of the SIPRNET traffic will be sent through the SIPRNET Entry Sites. Currently, the SIPRNET is at the 82nd Communications Squadron at Langley AFB. The test SIPRNET Entry Site is in Melbourne, Florida, and it's being used as our backup right now, but the intent is that eventually they want to have a SIPRNET Entry Site stand up here. We would host the entry site, which is another rack of communications equipment. So from a communications perspective, it's awesome for us if that happens because that's our bread and butter; that's exactly what we do," Capt. Alvarez states.
Delivering the BLOS communications capability has posed some challenges, the captain allows. Because the system was delivered in response to a UON, the 116th CSS had to determine what it needed to support the aircraft. Working together, the 751st Electronic Systems Group, the 116th CSS and Northrop Grumman resolved issues quickly. "Nothing was insurmountable, and I think we've come up with good plans and good lessons learned," he maintains.
Capt. Alvarez explains that one of the reasons the BLOS system is so helpful in operations is its interoperability with other services' systems; it is a common gateway interface standard platform. "What are people using on the ground? They're using SIPRNET; they're using e-mail and chat capabilities. Airborne guys weren't using that. So now when we are airborne, we can use the same communications capabilities as they're using on the ground. What we used to have to do and what we do now because of BLOS is a tenfold difference," he relates.
The captain notes that while the BLOS system did not begin as a mission-critical capability, once it was put on the aircraft the benefits blossomed. "If we do not fly with BLOS, it is almost—it's not quite there yet—but it's almost like a go/no-go flight. It's become that critical not just to us but to everyone. … Intelligence is receiving data, and there are so many different things we're doing now because of BLOS because we're starting to see that it's opened up other doors," Capt. Alvarez maintains.
After becoming aware of the capability, other organizations are expressing interest in adopting it for their own aircraft. For example, communications personnel at Barksdale AFB, Louisiana, contacted the 116th CSS because they are working with the 2nd Operations Support Squadron to set up an infrastructure for B-52s that is similar to the Joint STARS aircraft BLOS communications. They want to piggyback on the lessons learned by the 116th about managing assets, keeping assets compliant for use on the SIPRNET and remaining mission-ready for combat crews, as well as dealing with patches and software configurations, the captain shares. The capability also will be installed on Airborne Warning and Control System (AWACS) aircraft, he adds.
To meet the UON, the Air Force has been using Northrop Grumman's equipment. However, with the delivery of six suites of equipment to the 116th CSS, the squadron will begin full support of the Joint STARS fleet. "Once we get our equipment, it's going to be a little different. We're going to need to get the training. Then, the program office already has its unfunded Prioritized Program List that has the 20 different programs that they're going to try to get on board. Some of these other programs are going to be affected by BLOS because BLOS is going to allow them to improve, or they're going to complement each other.
"So the future is that different programs that we bring onboard are going to help complement and make BLOS a more useful system. For the ones that we bring onboard, we're going to say, 'Hey, we already have the capability. What can we do with it?'" the captain states.
WEB RESOURCES
116th Air Control Wing: www.116acw.acc.af.mil
Joint STARS: http://www.af.mil/information/factsheets/factsheet.asp?id=100
Robins Air Force Base: www.robins.af.mil
551st Electronics Systems Wing: www.hanscom.af.mil/library/factsheets/factsheet.asp?id=5565