Partnerships Power Cyber Readiness
DoD's cyber big three present a united front.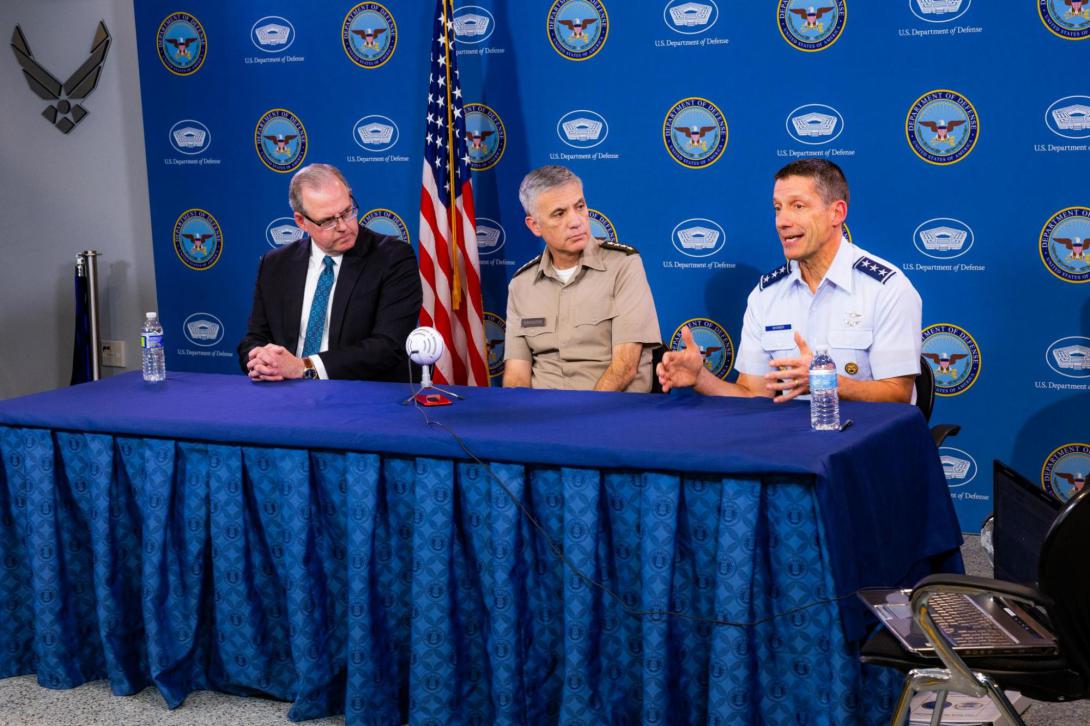 Early every Monday morning, three of the U.S. Defense Department's most powerful officials in the cyber arena meet via secure video teleconference to coordinate the department's cyber readiness.
The weekly meetings cover the gamut of readiness issues, including zero trust and command, control and communications modernization.
John Sherman, the department's chief information officer (CIO), advises the secretary of defense on command, control, communications and cybersecurity. Army Gen. Paul Nakasone serves as director of the National Security Agency, commander of U.S. Cyber Command, and chief of the Central Security Service, and Air Force Lt. Gen. Robert Skinner directs the Defense Information Systems Agency (DISA) and commands the Joint Forces Headquarters-Department of Defense Information Network.
The power trio recently sat with SIGNAL Media reporters in an unprecedented and exclusive discussion covering a wide range of cyber-related issues.
"We start our week on Monday mornings, right at seven o'clock. We're on a secure [video teleconference] with one another, and we're talking about what the week's going to bring to all of us and what's [happening] at the Pentagon, what's happening at Fort Meade, what's happening down in DISA," Gen. Nakasone reported. "I call it sometimes the best meeting I have all week just to set myself in terms of what's going on."
All of their work cascades from the national defense strategy, Sherman said, and includes the department's joint warfighting cloud capability, zero trust and command, control and communications modernization in areas such as positioning, navigation and timing, and satellite communications.
Gen. Skinner emphasized the need to "build capacity" and reduce dependency on legacy capabilities. "We need to get away from the legacy, which is more expensive, takes more people and takes more time to get to the modern future so that we can build this capacity to give to General Nakasone more operational maneuver space as he continues to take care of the missions that he's assigned."
Gen. Nakasone responded that the cyber realm is only growing in importance. "This is a domain that's not shrinking. This is a domain that's growing. This is a domain that's important to our nation. It's important to our department. So, we spend a tremendous amount of time looking at not only the capacity of what we're doing, but also the capability."
No matter the topic, cyber readiness underpins every discussion. The nexus, Gen. Skinner said, is whether the department is ready for the next step. "Are we ready for the future? Are we postured today and ready for tomorrow? Readiness underpins all that. We have to be ready no matter what is thrown our way."
Gen. Nakasone picked up the readiness theme, adding that Cyber Command examines "the entire spectrum of readiness" from personnel to equipment. "How do we maintain this premier force that we have today? I think a lot about it. I think a lot about not only how to recruit the force, the ability to train that force, but importantly, how to retain that force."
All three stressed the importance of those Monday morning meetings and the cooperative spirit between their organizations. "We springboard off one another," Sherman said, adding that he can then go into meetings with other Pentagon leaders, including budget meetings, and "advocate and get those synergies together for what we need to do to protect and be ready for what may await us in the future."
To remain the world's premier cyber force, Gen. Skinner asserted, the Defense Department needs to focus on both technology and people, make life simpler for users and optimize the force. "That's what we continue to do on a daily basis, even at 0700 on Monday. We're looking at how we make the force more effective in the future, which also makes them ready and makes the best posture against the peer adversaries."
The exclusive discussion with SIGNAL Media took place shortly before the Defense Department issued its new workforce strategy document. The strategy takes a "21st Century approach to how we do talent," Sherman said, and also is underpinned by Defense Department Manual 8140.03, the Cyberspace Workforce Qualification and Management Program, which took effect mid-February. "We can talk technology all day long, but it's about the women and men, military, civilians and others who are getting this done, whether it's protecting our networks, whether it's supporting the military operations across the board."
He added that the strategy emphasizes the need for a workforce that "looks like America" and "taps into our broad national advantage" and allows the department to recruit the talent needed to compete in the 21st century.
"We want to look at our more experiential based qualifications versus the degree you have hanging on your wall, exploring apprenticeships, which the administration's already moved out on. Maybe there's a first-generation college student in Honolulu going to that community college, and she has exactly the talent we need to be a cyber defender or work in any other number of skill areas," Sherman suggested. "She may not want to work at DoD for 30 years. She may want to come here, get that sense of mission, go to industry and come back. And frankly, that's the sort of workforce that we need to be able to develop."  
Gen. Nakasone suggested the strategy covers every aspect of workforce recruitment, development and retainment. "It's the spectrum of being able to look at the entire ecosystem of talent management. If you can't look at that entire ecosystem, then you're not going to be able to compete in the 21st century. That's what's really refreshing about the strategy."
The strategy also calls for the department to recruit in nontraditional places, such as high schools the department hasn't been to before, Gen. Skinner added. "Whether it's a geographic part of the United States, maybe even globally. Where do you find the talent at the lowest or at the youngest level? And then how do you have internships that you haven't leveraged before, to bring them in and let them see what the DoD mission is all about?"
Gen. Nakasone also emphasized the importance of intelligence sharing in the cyber arena. Cyber Command officials have floated the idea of building a cyber intelligence center. The past year of war between Russia and Ukraine has shown the value of partnerships with companies such as Microsoft through the nonprofit Cyber Collaboration Center and Cyber Command's Under Advisement program, a collaborative effort to share information with the private sector. "This has fundamentally changed our command and our agency over the past year. This is where we're going as an organization. We need partnerships because partnerships give us scale, partnerships give us capacity, partnerships give us capability. It's a tremendous future ahead of us."
The CIO replied that the partnership between the three leaders also comes into play in the international cyber arena. "General Nakasone and his team will visit a key ally or set of allies with his Cyber Command and NSA hat on and imparting lessons learned and providing advice in partnership with that ally. Then maybe I come in later with some of my team and bring in some of the CIO aspects about how to set up governance and policy and standards ... as we strengthen ourselves through these alliances, whether it's NATO, or in East Asia, or elsewhere."  
The defense of U.S. elections offers yet another example of the importance of partnership. "Just in the recent midterm elections of 2022, being able to identify—unclassified—the top 20 vulnerabilities that the Chinese use, this is the type of intelligence that drives action, with everyone able to see it. And I think, you know, that's a change in the way that we do business," Gen. Nakasone said.
See related story from the same interview with the "Cyber Big Three":