Pay and Personnel Record Keeping Turns Purple
About the Author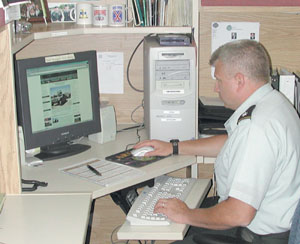 DIMHRS will allow Pentagon staff to access service members' personnel records from a single database to determine the number of people in the service, their pay grades and the skills they possess.

Integrated system brings jointness to military human resources.

With the help of commercial technology, 3.1 million of the U.S. Defense Department's most valuable assets, its people, will soon experience transformation from a personal—and personnel—perspective. Work has begun on a departmentwide system that will integrate personnel and pay systems and track each warfighter's career from recruitment to retirement. Soldiers, sailors, airmen and Marines will be able to access their individual records and, in some cases, update information from anywhere, including from the battlefield. In addition, combatant commanders will have personnel data literally at their fingertips.

Since the mid-1990s, the department has been working on how to turn the military's personnel and readiness system purple, allowing service personnel greater access to and more control of their records. The Defense Science Board recommended combining personnel and pay systems at that time, and work began in earnest to determine the services' functional requirements and the feasibility of using a commercial off-the-shelf solution. As a result, the Defense Integrated Military Human Resources System (DIMHRS) began to take shape. DIMHRS, which will replace 79 legacy systems, will create a single record for service members that will follow them throughout their entire career.

In 2001, the Defense Department entered into an enterprisewide licensing agreement with PeopleSoft Incorporated, Pleasanton, California, for its Human Capital Management System. The department chose to proceed with a two-phase development contract approach. During the first phase, risk-reduction work was performed, and selected vendors familiarized themselves with the military environment, then developed recommended systems specifications. Last September, the second phase of work began with a nine-year $281 million contract award to Northrop Grumman Information Technology, Herndon, Virginia, to develop a fully integrated personnel and pay capability for active duty, reserve and National Guard personnel from all of the armed services.

Northrop Grumman will match the PeopleSoft solution with the requirements identified by the Defense Department. The company also will analyze the gaps between the two and, when possible, find commercial solutions to fill them. Several small businesses are part of the team, which will operate at the Space and Naval Warfare (SPAWAR) Systems Command Information Technology Center, New Orleans. SPAWAR in San Diego is the contracting activity.

Norma J. St. Claire, director, joint requirements and integration office, Office of the Undersecretary of Defense for Personnel and Readiness, Arlington, Virginia, has been leading the effort to identify and coordinate the services' requirements. She explains that the Persian Gulf War revealed serious flaws in the current personnel management systems. It was impossible to determine who had been called to active duty from the reserves, and personnel and pay records were in separate systems that could not be cross-checked or shared.

Even today's systems do not track temporary duty assignments, and accountability does not exist, St. Claire says. This became particularly apparent when some operation Desert Storm veterans began exhibiting unusual physical symptoms, she points out. Because the department could not ascertain where soldiers had been stationed, it could not determine whether they had been exposed to dangerous chemicals and others could not be notified that they should be checked by a doctor, she shares.

Compared with existing systems, the benefits of DIMHRS are many and far-reaching, St. Claire says. First and foremost, military personnel will be paid on time and accurately. The active duty payroll process currently takes several days. The current estimate is that DIMHRS will reduce this by at least 25 to 50 percent.

Second, the system will be semi-self-service, so warfighters will be able to correct or update some of their records, such as change of address or number of dependents. This will not be the case in all instances. For example, individuals will not be able to change their pay grade or update training information independently. However, when service members review their records and find errors, they will be able to contact the appropriate authority to correct the records, she explains.

The plan is to allow access from a multitude of devices, including laptops and handheld units. One goal is to have at least some functionality available at all hardware levels without requiring soldiers to carry additional equipment into the field. However, because a certain level of hardware and systems capability will be required, many stations—for example, National Guard units—will need to upgrade their own systems to tap into DIMHRS. Although the DIMHRS program will not fund or provide these upgrades, program leaders point out that overall these units will benefit because commanders will have to plan for computer upgrades to provide the connectivity.

The benefits go far beyond accurate record keeping. From a mission and operations standpoint, combatant commanders will be able to use the system to locate personnel who possess required skill sets. They may, for instance, need someone who is a Tomahawk missile-firing specialist or proficient in Farsi. Using DIMHRS, commanders will be able to query a single database from their desktop computer to find out who is available and closest to their command center. Today, commanders would have to query 12 different databases to acquire this information, and because records may be outdated, they could receive erroneous information.

Once fully implemented, the new system will enable cross-servicing in joint operations. This is especially important in today's warfighting environment, St. Claire says, when so many reservists and guardsmen are part of the active duty force, and manual tracking is not feasible. Although the Marine Corps currently has an integrated system, it is not connected to the other services, so DIMHRS will be the link, she adds.

Capt. Valerie E. Carpenter, USN, joint program manager, DIMHRS, is in charge of DIMHRS implementation and says that the cooperation of all the services has contributed greatly to the success of the project so far. "This certainly represents a change in the approach and strategy from the services. It shows their willingness to commit to best business practices and to do what's in the best interest not only of their service and the Department of Defense but also, more importantly, of their individual service member," Capt. Carpenter says.

Career development is one example of what this system brings to each warfighter. For instance, a soldier may believe his skills are current in a specific area; however, a quick self-review of his record may show that it is time to obtain additional training. This self-service aspect of DIMHRS not only gives service members more control, the captain says, but also it will give defense leaders in the Pentagon near-real-time force accounting. At any time, they will know the number of people in the service and their pay grades as well as the skill sets personnel possess so recruiting goals can be adjusted if necessary.

Records also will include medical information, so when warfighters are wounded, data about items such as blood type or next of kin will be readily available. Additionally, when a wounded soldier is taken off the line, commanders will know the skill sets they are missing and thus be able to find an appropriate replacement, the captain explains.

Implementation of DIMHRS is taking place one service at a time. Although the U.S. Navy is the testing and evaluation organization, the U.S. Army will be the first service to move into the system, followed by the Navy then the U.S. Air Force and finally the U.S. Marine Corps. The government's requirements are very specific, Capt. Carpenter explains, and Northrop Grumman will develop and implement the system, which will go through various levels of testing by the government then undergo operational testing. In all, nearly six months of testing will take place prior to deployment.

According to Defense Department officials, this will be the largest implementation and deployment of the PeopleSoft human resources suite in the world, and Capt. Carpenter says there are several advantages to employing a commercial product. "A lot of the commercial industry development cost and risk is on the company. Also, as new practices and new innovations develop, the commercial sector leads the way, and this way we get to ride along on the coattails of that new innovation and a better way of doing things," she says.

"This also means that we have to change how we do business," the captain observes. "We have to stop being Defense Department-centric and start being best-business-practice-centric and look at the commercial world and say, 'Can we live with the way they do business?' What is important to us is not the process, but that we get the right outcome from the process. If we do, then does the process really matter?"

Information security is a top priority, the captain emphasizes. Northrop Grumman helped write the information assurance instructions for the government, she points out, so the company is experienced in the field. Moreover, PeopleSoft, like all commercial enterprises, has built in security features because its commercial customers demand them, the captain says. Information security will be part of the operational testing and will be ongoing, she adds.

Capt. Carpenter admits that using commercial products has some disadvantages. Government agencies cannot tell companies when to release a new version or capability, so they are dependent on firms for upgrades scheduling. In addition, although government organizations have specific requirements, the products are developed for the commercial market so they may not meet some needs as precisely as a government-developed item. PeopleSoft has been very responsive in this regard, and the captain relates that the company has been examining the government's terms and has been building its commercial product to meet those requirements at no additional cost to the department.

Bruce Triner, director, defense and special programs, PeopleSoft, explains that the government has been adhering to its 70-20-10 rule during the past two years in its use of the company's product: 70 percent commercial off-the-shelf, 20 percent government off-the-shelf, and 10 percent customization. The department also has been adopting commercial best practices, he says.

The PeopleSoft technologies include approximately 20 discrete products, many of which are not strictly human resources tools because the military is looking for additional capabilities. These products were already available from the company, and modifications have been limited to adding terms that are specific to each service. Web architecture will be implemented to maximize the availability of information, Triner says.

Immediately following the contract award to Northrop Grumman, PeopleSoft personnel began working with the team leader. Cmdr. Jon Jensen, USN (Ret.), capture manager, Northrop Grumman Information Technology, explains that his company is the development and implementation manager. The company has designed the hardware architecture that will be put into place in New Orleans, and a back-up site will be set up in a separate location.

The firm will ensure that PeopleSoft's product capabilities meet the requirements set forth by the Defense Department. "We're trying to minimize the customization of the software. That's been one of the failures in the past. So the idea is that we would work hard at changing procedures and processes to adapt to the software more than vice versa. Obviously, when the next version of the software comes out, the less customization, the more applicable the next version of the software would be, so less coding would be required," Cmdr. Jensen says.

The Northrop Grumman team also will be responsible for the quality of the training. The commander says the approach will be to train the trainer to ensure that users are comfortable with the new system.

Cmdr. Jensen relates that current scheduling calls for DIMHRS to be fully implemented for active duty, reserves and National Guard within the next five years. Retirement pay will be handled separately from DIMHRS, but human resources records for retirees will be part of the system.

Both St. Claire and Capt. Carpenter recognize that an implementation of this magnitude involves some challenges. They agree that, at the beginning of the implementation phase, each service will have to identify a sole authoritative source for data for every data element and ensure that the information is correct. "For the services, that's the long pole in the tent," Capt. Carpenter says. This is no small task. As of last fall, the program office had identified 3,000 data elements for all of the services.

Change management will be another challenge, St. Claire says. To address this matter, the department has instituted a robust issue resolution process so that whenever changes are about to be implemented, they are reviewed by a number of groups at various levels of command, she relates.

Additional information on the Defense Integrated Military Human Resources System is available on the World Wide Web at http://www.dimhrs.mil.