Outsider Opens A New Market
Shrinking military budgets and stagnating sales are placing pressure on European defense firms to survive by merging. Companies seeking to do business on the Continent must be especially enterprising to find opportunities in this tight market.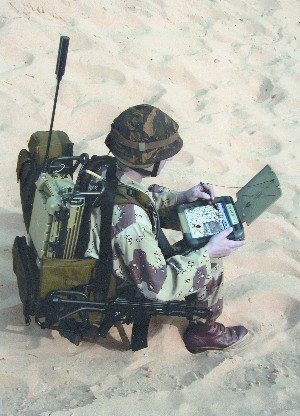 Israeli designed and manufactured tactical military communcations and control systems now have new entree into the European market.

Consolidation is a key to highly competitive business environment.

Shrinking military budgets and stagnating sales are placing pressure on European defense firms to survive by merging. Companies seeking to do business on the Continent must be especially enterprising to find opportunities in this tight market.

The European defense environment represents both limited horizons and great possibilities. Reduced military spending and long-term commitments to major weapons platforms channeled much of the European Union's funds away from new purchases. However, the admission of central and eastern European nations into NATO and the union offers new possibilities for firms with a presence in the region.

One example of this is an Israeli company that has entered the European defense arena by acquiring an established German communications firm. As the majority shareholder of European Aeronautic Defence and Space Radio Communications Systems GmbH and Company (EADS RACOMS), Ulm, Germany, Tadiran Communications Limited, Holon, Israel, is now positioned to develop new products tailored for the Continent's defense needs.

Although acquiring RACOMS is Tadiran's first major step into the European defense market, the company has been actively seeking partners and investments in the region since 2002, explains Samuel Katz, Tadiran's vice president for marketing. Under the terms of the agreement, Tadiran and EADS are partners in RACOMS, with Tadiran holding 75 percent of the company.

Originally known as Telefunken, RACOMS is a 100-year-old firm that developed one of the first German military radios. The company currently designs and manufactures high-frequency radio systems, millimeter-wavelength communication systems, very high frequency power amplifiers, control systems and NATO-compliant communication modems and protocols for the German military. It also participates in the Euro-Radio program to develop a software-defined radio and supplies commercial communications markets.

While RACOMS has an impressive pedigree, Katz notes that its major appeal is its position as a doorway into the Continent. The firm's product portfolio of tactical radio systems also complements Tadiran's, he says.

Besides manufacturing military communications systems for air, sea and land platforms, Tadiran is involved in other markets, such as government, police and public safety applications. Its mobile communications division provides a range of equipment and systems for nonmilitary organizations such as embassies and the United Nations. Tadiran also supplies commercial firms such as oil companies with long-range communications networks. Katz is hopeful that RACOMS will contribute technologies and expertise to these areas.

Although RACOMS may change its name to reflect the partnership, it will remain a separate entity with its own management, Katz maintains. Mainly active in Germany, RACOMS will benefit from access to international markets. "Through our global marketing network in Tadiran Communications, they will be able to access the international market for their products," he says.

While well-established in international tactical communications, Tadiran's lack of access to European customers has prevented it from gaining expertise in continental communications standards. The firm mainly uses U.S. standards in its equipment, but the RACOMS deal now permits the design and manufacture of products meeting NATO and European Union protocols. "Right now we, as an Israeli company, are limited in access to certain standards, and we do not intend to get this access through RACOMS. However, we believe that together we can build new technologies and equipment that RACOMS will be able to tailor to fit European standards," he says.

The partnership permits both firms to pool their capabilities to design and build new types of radios and communications systems for European civil and military markets. Katz explains that, by combining both firms' expertise on specific projects, Tadiran effectively can double its research and development capabilities for tactical communications.

Katz notes that it is difficult for international firms to enter the European defense market. But Tadiran was successful in 2001 when it was selected over Thales to provide communications equipment to the Finnish military. European customers are demanding and require advanced technology in their systems, he explains, adding that, unlike the United States', Europe's defense market is not as open to competition—either from non-European or local companies. But the acquisition of RACOMS now puts Tadiran in an advantageous position. "In the past, we were acting in Europe from abroad," he says.

The acquisition of EADS RACOMS also places Tadiran in a market that is moving eastward with the expansion of NATO and European Union membership—a process Katz describes as the reconstruction of Europe. Katz is sanguine about business prospects in this emerging market. Although the United States is Tadiran's largest defense market—serviced through its subsidiary in Tallahassee, Florida—Europe represents a second, growing market. "Now, having put our foot in the door through RACOMS, we believe that we'll at least have the option to participate in those opportunities," he says.

Ben Moores, a London-based European defense analyst with Frost and Sullivan, believes the sale makes sense for EADS, which is moving away from product-based sales and into systems development. However, the German communications market is especially competitive. Besides traditional firms such as Rohde & Schwartz, Thales and Alcatel, a recent wave of international competition from outsiders like Avaya and Cisco Systems has increased the pressure in that national market. Under these circumstances, it makes sense to move on to other things, explains Moores. "It was just getting too competitive," he offers.

Other Israeli firms also are taking advantage of business in former Warsaw Pact countries, explains Tomas Valasek, director of the Center for Defense Information's Brussels office. He notes that Elbit Systems has signed deals with the Romanian government and is in negotiations with the Slovak Republic potentially to upgrade its MIG-29 fleet. Israeli companies have a long history of converting Eastern Bloc equipment to Western standards—something that is increasingly important as central European nations begin to join NATO.

Despite an initial wave of optimism several years ago when many central European nations bid for NATO membership, little has materialized in the form of major equipment sales. Valasek notes that, while smaller contracts for equipment such as radios have been signed, large acquisitions of combat aircraft or armored vehicles have either been through leases or are so heavily offset that their profit margins are questionable.

Moores estimates the annual European market for tactical, nonstrategic communications at $1.79 billion. He predicts the market will severely contract in 2008 or 2009 and then begin slowly expanding again. The shrinkage will be part of the aftermath of the United Kingdom's Bowman project. The large size of the program and the necessary ramp-ups to meet it have temporarily inflated the Continent's communications market.

The German market itself is worth around $188 million a year. However, Moores believes that it will grow through 2006 and then fall into decline until 2012. Beyond tactical systems, the next large communications frontier for Europe's armed forces will be high capacity software programmable radios for higher echelon forces. He predicts the value of this market, which could emerge around 2012, to be at least $80 million annually.

Valasek observes that, although acquisitions like RACOMS represent a back door into the European defense market, it still remains difficult to enter because the market is shrinking. Though defense budgets in some nations like the United Kingdom and France have increased, the overall trend is one of stagnation and reduced investment, he says. These forces are responsible for the wave of mergers that swept the Continent, creating integrated organizations such as EADS and BAE Systems.

The atmosphere is similar to the 1990s defense reductions in the United States that led to a wave of consolidations in the U.S. aerospace and defense industries. "We see signs of this happening in Europe as well. There is pressure on all the companies to protect their market in any way possible, which is obviously not the sort of environment that lends itself to a big newcomer," Valasek offers.

As the European Union expands from 15 to 25 nations, each country will try to preserve major parts of its own industrial base such as munitions factories and shipyards. Because national companies and governments are in a defensive mode, it has created a buyers', not a sellers', market. "This is not an environment that will augur well for any outside contractor to come in and take a big chunk of those contracts away," Valasek says.

The situation has caused a decrease in the amount of available funding for research and development, driving discussion in the European Union about creating a continentwide armaments agency. This agency would serve as a back door to increase a shrinking pool of funding for defense research. The core problem is that almost all of Europe's research funds have been committed to specific major programs, such as the Eurofighter, for many years to come.

However, a few bright areas exist in an otherwise gloomy market, explains Moores. He notes that the Netherlands, Norway and Sweden have all shifted their defense budgets to compensate for any cuts in equipment purchases. "There are definitive pockets of growth. But it's a really mixed picture, and overall it's pretty grim," he says.

A major cause of the Continent's defense doldrums is a synergy caused by several large, expensive defense programs reaching maturity at the same time. Moores notes that European governments do not have the financial flexibility to manage these costs and acquire other new equipment. "If you look at the number of orders and when we ordered them, it's more than just a case of ordering too many. It is also a case that we ordered them in days when budgets were completely different. So it's a sort of double-whammy. It's not that we don't need them, it's that the budgets have changed as well," he says.

While the current environment has changed, the politics behind these large orders have not. In a consensus-based system such as the European Union, once nations have agreed to a program, it is very difficult to reverse or stop them, especially when partner nations have committed to production, Moores explains.

Although budgets have increased in some nations, it is not enough to stop cuts in orders made five or 10 years ago. Valasek notes that orders for future military aircraft such as the A400M transport or Britain's Type 45 destroyer are either being cut or are candidates for reduction. Because of this over-commitment, he believes that there will be no significant equipment purchases by the major European Union nations for some time. To change this pattern would require drastic alterations in the Continent's procurement policies. "It would need a whole lot more money, or a radical rethinking of what they have ordered and what it is they want to buy," he says.