| Email this Listing | Update this Listing | Print this Listing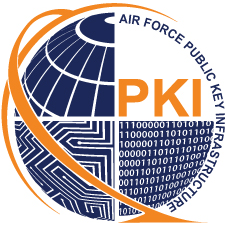 AFPKI SPO
Member Since: 2019
4318 Woodcock Dr Ste 200
San Antonio TX 78228-1321
Telephone:
Email:
AFPKI Outreach Manager:
Susan Eubanks
AFPKI Program Manager:
Sue Hooker
Business Focus:
The Air Force Public Key Infrastructure System Program Office (AF PKI SPO) is a recognized leader in the DoD for PKI implementation and customer support services, striving to provide secure Information and Identity Assurance through superior Public Key Enabling. By leveraging a pervasive platform that transparently provides Identity, Credential and Access Management (ICAM) capabilities across the Air Force enterprise, the AF PKI SPO provides the Air Force a foundation to ensure identities are validated, information is safeguarded, and parties can be held responsible for their actions; ultimately enabling flexible, trusted communication channels across every theater of operations.
Products/Services:
Identity, Credential & Access Management (ICAM)  Cybersecurity  Identity Assurance  Information Assurance
Clients:
Air Force/Air Force-supported end users Air Force Systems/Network Administrators Program Managers
Small Business Status:
Business Categories:
Education
Smart Cards & Services
Cyber
Countermeasures
Public Key Infrastructure & Systems
Cryptographic Products
Secure Communications
Trusted Computer Systems
Wireless Communications
Authentication Means and Services
Product Installation & Maintenance
Information Assurance
Information Security
Risk Management
Consulting
Detection/Identification
Companies provide the information for publication in AFCEA directories. To be included, organizations must offer products and/or services that are relevant to a directory's focus and to the AFCEA community. AFCEA reserves the right to edit or remove material that does not meet these criteria.
To update existing company directory information click here

Not a member yet? Join Now
Click here for a list of all AFCEA directories
Sustaining Corporate Members Include
:
Click here for a list of all Sustaining Members.